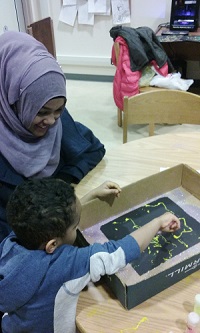 Please join us at the Central Library as we celebrate Engineer's Week at the Library February 15th-February 21, 2020.
Founded by the National Society of Professional Engineers in 1951, Engineers Week is dedicated to "ensuring a diverse and well-educated future engineering workforce by increasing understanding of and interest in engineering and technology careers."
"Dedicated to raising public awareness of engineers' positive contributions to quality of life, EWeek promotes recognition among parents, teachers, and students of the importance of a technical education and a high level of math, science, and technology literacy, and motivates youth to pursue engineering careers in order to provide a diverse and vigorous engineering workforce."
Engineers are changing the world all of the time. They dream up creative, practical solutions and work with other smart, inspiring people to invent, design, and create things that matter.
To celebrate this amazing week at the library, we will be using engineering concepts to make fun games, puzzles, and machines. This year, we were inspired by "Awesome Engineering Activities for Kids" by Christina Herkert Schul.
Interested in more ideas? Here are some more titles to check out.
100 easy STEAM activities: awesome hands-on projects for aspiring artists and engineers by Andrea Scalzo Yi
Spark your curiosity with these fun games and creative projects to learn early concepts in Science, Technology, Engineering, Art and Math.
The book of massively epic engineering disasters by Sean Connolly
This is a fun book that talks about major engineering disasters and includes projects you can do at home to better understand why these failures took place.
STEM Lab by Jack Challoner
With an increasing focus in school curricula on encouraging children to enjoy and explore STEM subjects (science, technology, engineering, and math), Maker Lab STEM is the perfect companion for any inquisitive child with an interest in technology and how it works.
50 STEM labs : science experiments for kids by Andrew Frinkle
STEM play : integrating inquiry into learning centers by Deirdre Anglehart
Describes activities to introduce children to aspects of the STEM (science, technology, engineering, and math) fields, including through art, dramatic play, movement, music, and literacy.
Sources:
https://www.nspe.org/resources/partners-and-state-societies/engineers-week