With online services and free download and streaming media available 24/7, your library is always open!
Overdrive - eBooks, eAudiobooks & videos
Freegal - Music downloads and streaming
eBooks - EBL limited collection
---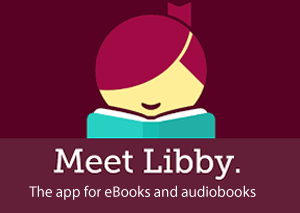 Download Audiobooks, eBooks and Video that can be read, listened to or viewed on your computer, tablet, smartphone, or dedicated eReader device (video is computer only). There are never overdue fines or late fees - titles automatically return to the Library's collection. Click here to access the OverDrive collection.
For use on tablets and smartphones:
For Apple and Android products the Libby app by Overdrive is recommended
For Kindle Fire and computers use www.libbyapp.com
Click on any of the following for training guides and instructions:
Libby App - Quick Set-up
Libby App - Full Instructions
OverDrive for Web Browsers
Kindle eReaders & Kindle App
OverDrive for Android & Apple Devices & Kindle Tablets
iPad / iPhone (Video)
OverDrive & Adobe Digital Editions for USB Devices
eBooks & eAudiobooks: new Library Catalog
Accessing EBL Ebooks (Instructions)
---

Music Downloads! Hundreds of thousands of songs from SONY Music Entertainment are at your fingertips! Download to an iPod, MP3 player, PC or a Mac. Using your library card and PIN, you may select 5 downloads each week. This library service is brought to you through Freegal Music. It's FREE and it's legal!
Click here to visit the Buffalo & Erie County Public Library's Freegal site.
Freegal App - Quick Set-up
Freegal - Full Instructions (for computer and app)