Visiting the Library
Printer-friendly version
Welcome to the downtown Central Library, located at 1 Lafayette Square in the heart of the City of Buffalo, New York.  The Library is located between the blocks of Washington, Oak, Ellicott, Clinton and William streets.  The Library is accessible by car, bike, public transit including bus or subway, or by foot!  The Library does not have its own parking lot.  There are nearby lots and street parking available for a fee.  On weekends and evenings, street parking may be available for free. 
Directions to Central Library    Map of Central Library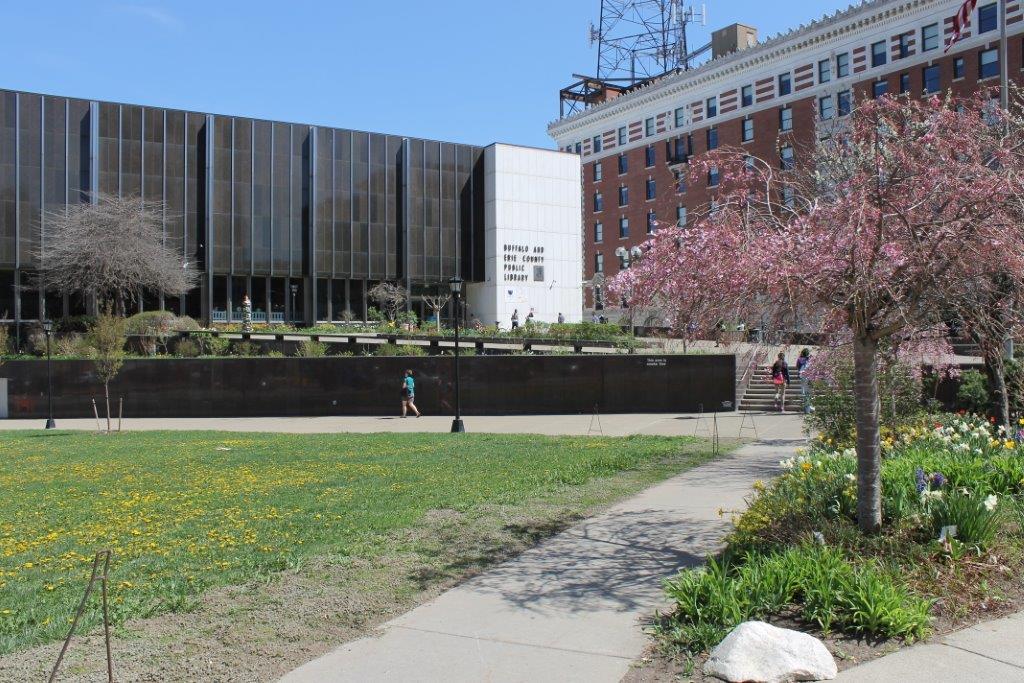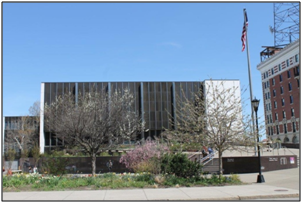 Washington Street main entrance – between Broadway and Clinton streets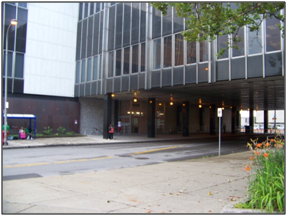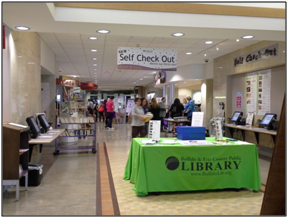 Ellicott St. underpass entrance – between William and Clinton streets
You can enter the Library from either one of these handicapped accessible entrances:
Washington Street entrance (across from Lafayette Square), between Clinton and Broadway streets.
Ellicott Street entrance, between Clinton and William streets.
The Clinton Street entrance (between Ellicott and Washington streets) is open when there are programs taking place in the Library's Auditorium.  

The exhibit, Buffalo Never Fails: The Queen City and World War I, is free and open to the public during all regular library hours.  
Free public tours are available every Saturday at 2:00 p.m. with the exception of holidays.
The World War I exhibit is located in the Library's Collections Gallery.
From the main floor, take the elevator, escalator or stairs to the 2nd floor for the Gallery.
Library Hours:
Monday          8:30 a.m. – 6 p.m.
Tuesday          8:30 a.m. – 6 p.m.
Wednesday     8:30 a.m. – 6 p.m.
Thursday        8:30 a.m. – 8 p.m.
Friday             8:30 a.m. – 6 p.m.
Saturday         8:30 a.m. – 6 p.m.
Sunday*          (open on Sundays from the months of September – May) from 12 noon – 5 p.m.  (*The Library is closed on Sundays in the summer months.)
The Library is also closed on these holidays:
New Year's Day
Martin Luther King, Jr. Day
President's Day
Good Friday
Easter Sunday
Memorial Day
Independence Day
Labor Day
Veterans Day
Thanksgiving Day
Christmas Eve Day (2017)
Christmas Day
Inclement weather may close the Library – tune into WBEN Radio (930AM) for updates.
Make a day of visiting the Library.  There is plenty to do!
You can….
Visit the Mark Twain Room featuring leaves from the original handwritten manuscript of Adventures of Huckleberry Finn;
Visit our full service cafe Fables Café – open during the week for breakfast, lunch and beverages;
Create something in the family-friendly, technology-based Launch Pad MakerSpace;
Spend some quiet time in the Whisper Space;
Explore the Grosvenor Room which is filled with Buffalo History;
Attend a free program or event;
See our latest exhibit in the Rare Book Room;
Need a free library card? If you live, work or go to school in Erie County, library cards are free (it doesn't matter what your age). Here are Library Card details.
Take out a book, music, video or more: Here is our catalog.
Downtown Buffalo is on the move! 
Buffalo is an extremely vibrant city with the Library at its hub.  There is a mixture of cultural, business, social, educational and open green spaces plus sports venues, theatres, restaurants, hotels, parks, water activities, night clubs, cafes, Buffalo City Hall and Erie County Hall all within walking distance to the Library.
Buffalo, New York is fortunate to experience all four seasons with plenty to do year-round.   There are several hotels which are walking distance to the Library.
For information on things to do in the neighborhood when visiting Library follow these links:
Canalside Buffalo: https://www.canalsidebuffalo.com/
Visit Buffalo Niagara:  http://www.visitbuffaloniagara.com/events/
Buffalo Place: http://buffaloplace.com/home
City of Buffalo website: https://www.ci.buffalo.ny.us/
Erie County New York website: http://www2.erie.gov/
Click here to see programs and events taking place in the Library:
http://www.buffalolib.org/content/library-locations/central
Visit the Library System website at: www.BuffaloLib.org
Visit the Central Library website page at: http://www.buffalolib.org/content/library-locations/central
Become a fan of the Library's Social Media

 Twitter

  Pinterest

  Instagram

  Flickr

  YouTube