John J Carmody
Printer-friendly version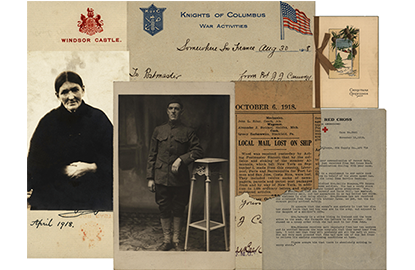 John J. Carmody, and his younger brother James immigrated to Buffalo from Ireland just a few years before the start of WW1 in 1914. Their mother Margaret Carmody remained in Ballybunnion, County Kerry, with their four younger siblings. Margaret's sister Nellie and her husband William Stenson had a home and confectionery shop on Seneca Street in Buffalo. Unbeknownst to Margaret, her sons entered service in 1918 after America had joined WWI, and both were assigned to the US Army. John and his brother James sent their paychecks to their Aunt Nellie in Buffalo who, in turn, forwarded the allotment and letters to the boys' widowed mother Margaret in Ireland—all the while not letting her know that they we were in Europe serving in the U.S. Army. U-Boat bombings sometimes disrupted the flow of mail and when this happened in October 1918 Pvt. John J. Carmody enlisted the help of the Red Cross to sort matters out and ensure that his letter and pay would get through to his mother. These documents tell part of this soldier's story.
Click images below to view in full size.
Items on loan from Kathleen Lesniak, granddaughter of John J. Carmody.