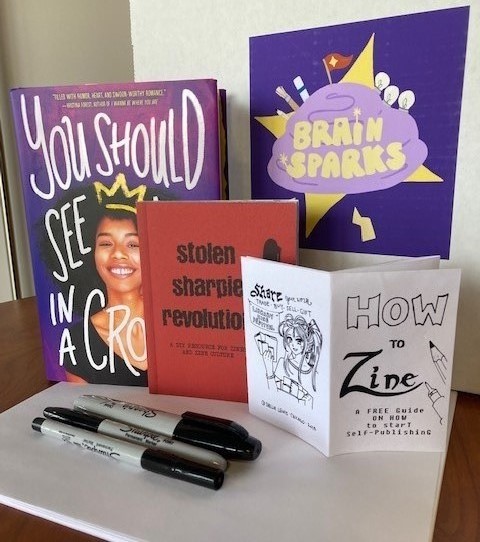 Do you love art? Reading? Our program, Brain Sparks, may be for you! This program is for Erie County teens who are 13-17 years old (or 8th to 12th grade). 
Each month will feature a different art medium and book. Registered teens will receive a box of art supplies and a book to to keep. Participants will also receive a Creativebug website subscription (good for a year). These supplies are to be used at the monthly Brain Sparks program. 
There are two sessions each month and teens must be able to attend both sessions since the skills build from the first session to the second. At the first session, we will  learn how to use the art supplies. At our second session we will discuss the book and, using the skills we learned previously, create something inspired by the book. 
When you register,  you will choose either the virtual or in-person option for that month.. The content of both programs are the same. The virtual program is via Zoom and the in-person program takes place at the Central library. Need technology to attend? We've got you covered. Chromebooks and hotspots can be borrowed for this program. 
March
Craft:  Zines
Book:  You Should See Me in a Crown
Virtual (Zoom) Program supplies will be sent to designated library
Thursday, March 10, 4-5:30  (craft intro)

Thursday, March 24, 4-5:30 (book discussion + craft) 
In-person (Central) Participants get supplies at the first program
Saturday, March 5, 2-4:00 (craft intro)

Saturday, March 19, 2-4:00​ (book discussion + craft) 
If you'd like to join us for the April program, registration is open online: March 25th-March 30th. 

This program was made possible through a generous grant from the  Ralph C. Wilson Foundation.