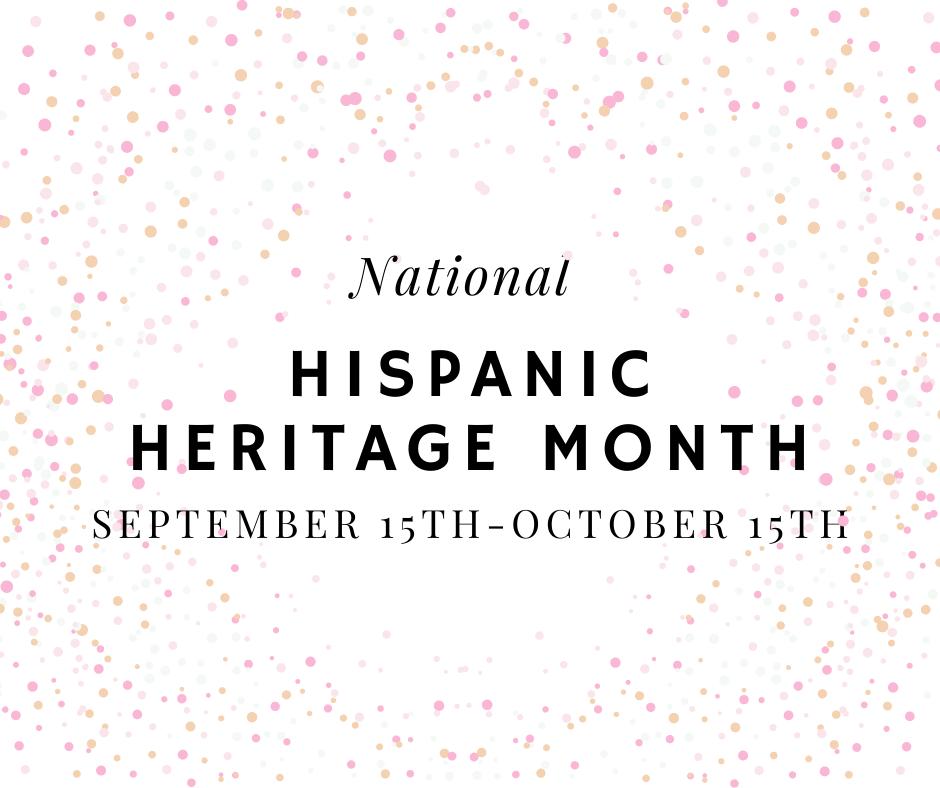 National Hispanic Heritage Month was created to honor the diverse experience of Americans with ancestors from Spain,
Mexico, the Caribbean and Central and South America. The first day, September 15th, is especially significant as "the anniversary of independence for Latin American countries Costa Rica, El Salvador, Guatemala, Honduras and Nicaragua." Children's Library Assistant Ms. Lucylle has curated a selection of books, poems and activities to honor our Latinx community:
El Mes Nacional de la Herencia Hispana fue creado para honrar la diversidad de los estadounidenses con antepasados ​​de
España, México, el Caribe y América Central y del Sur. El primer día, 15 de septiembre, es especialmente significativo como "el aniversario de la independencia de los países latinoamericanos Costa Rica, El Salvador, Guatemala, Honduras y Nicaragua". La asistente de la biblioteca para niños, la Srta. Lucylle, ha seleccionado una selección de libros, poemas y actividades para honrar a nuestra comunidad Latinx:
Poetry
Alma Flor Ada's poem, "Bilingüe" beautifully describes a child's ability to understand the world in two languages
Poesía
El poema "Bilingüe" de Alma Flor Ada describe hermosamente la capacidad de un niño para comprender el mundo en dos idiomas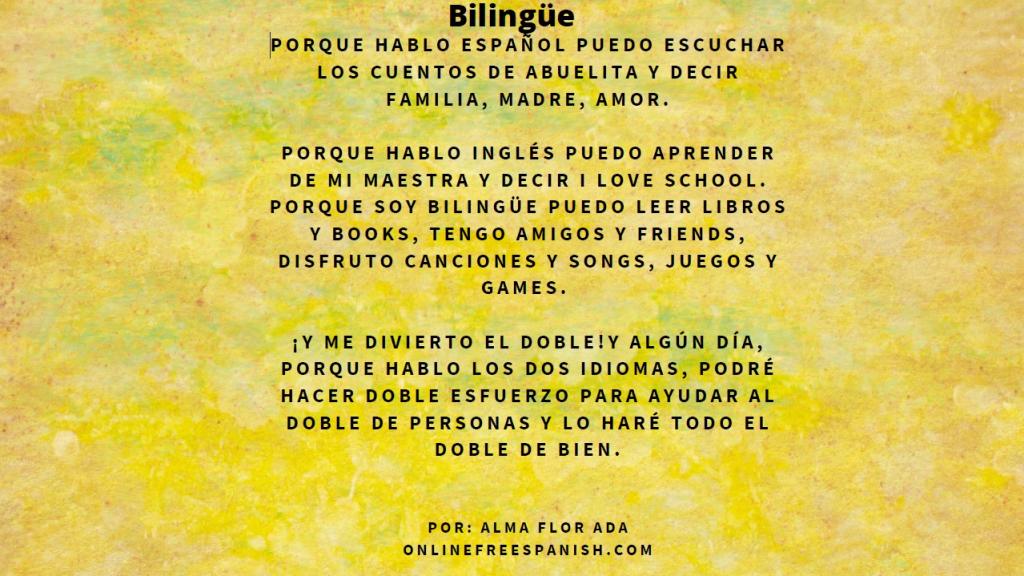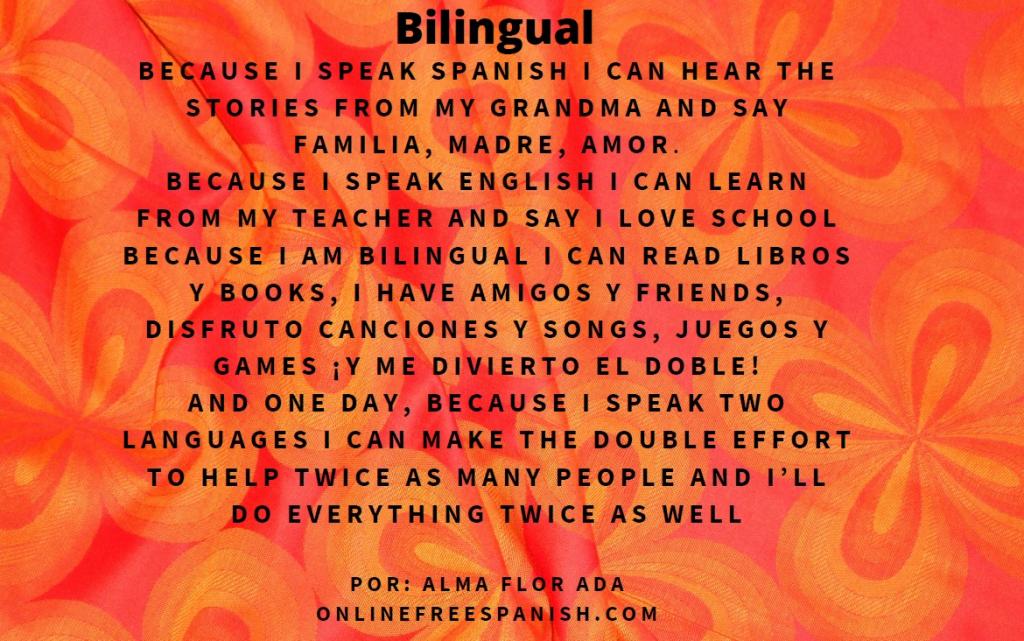 Books
The Latinx experience is as diverse as its people, and picture books help bring that diversity to life. Click on the images to link to the library's catalog
Libros
La experiencia Latinx es tan diversa como su gente, y los libros ilustrados ayudan a dar vida a esa diversidad. Haga clic en las imágenes para enlazar con el catálogo de la biblioteca.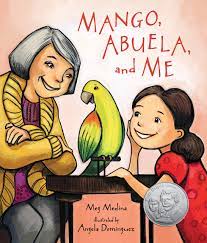 Mango, Abuela & Me by Meg Medina
"Mia's abuela has left her sunny house with parrots and palm trees to live with Mia and her parents in the city. The night she arrives, Mia tries to share her favorite book with Abuela before they go to sleep and discovers that Abuela can't read the words inside. So while they cook, Mia helps Abuela learn English ("Dough. Masa"), and Mia learns some Spanish too, but it's still hard for Abuela to learn the words she needs to tell Mia all her stories. Then Mia sees a parrot in the pet-shop window and has the perfecto idea for how to help them all communicate a little better. An endearing tale from an award-winning duo that speaks loud and clear about learning new things and the love that bonds family members." -- From Amazon.com
Mango, abuela y yo de Meg Medina
"La abuela de Mia ha dejado su casa soleada con loros y palmeras para vivir con Mia y sus padres en la ciudad. La noche que llega, Mia intenta compartir su libro favorito con Abuela antes de que se vayan a dormir y descubre que Abuela no puede leer las palabras del interior. Entonces, mientras cocinan, Mia ayuda a Abuela a aprender inglés ("Dough. Masa"), y Mia también aprende algo de español, pero aún le resulta difícil aprender las palabras que necesita para contarle a Mia todas sus historias. Entonces Mia ve un loro en el escaparate de la tienda de mascotas y tiene la idea perfecta de cómo ayudarlos a todos a comunicarse un poco mejor. Una historia entrañable de un dúo galardonado que habla alto y claro sobre aprender cosas nuevas y el amor que une a los miembros de la familia."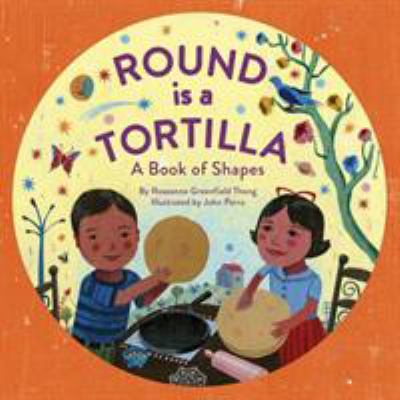 Round is a Tortilla a Book of Shapes by Roseanne Greenfield Thong & John Parra
A little girl discovers things that are round, square and rectangular in her Hispanic American neighborhood. In this lively picture book, children discover shapes all around them: rectangles are ice-cream carts and stone metates, while triangles are slices of watermelon and quesadillas. Many of the featured objects are Latino in origin, and all are universal in appeal. With rich illustrations, a fun-to-read rhyming text, and an informative glossary, this playful concept book will reinforce the shapes found in every child's day!
Ronda es una tortilla un libro de formas de Roseanne Greenfield Thong & John Parra
Una niña descubre cosas redondas, cuadradas y rectangulares en su barrio hispanoamericano.En este animado libro de imágenes, los niños descubren formas a su alrededor: los rectángulos son carritos de helados y metates de piedra, mientras que los triángulos son rodajas de sandía y quesadillas. Muchos de los objetos presentados son de origen latino y todos tienen un atractivo universal. Con ilustraciones ricas, un texto en rima divertido de leer y un glosario informativo, este divertido libro conceptual reforzará las formas que se encuentran en el día a día de todos los niños.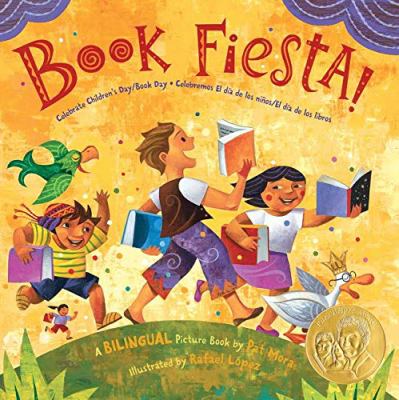 Book fiesta! : celebrate Children's Day/book day by Pat Mora & Rafael López
Children read aloud in various settings to celebrate of El día de los niños, or Children's Day, in this bilingual story. Includes facts about Mexico's annual celebration of children and the book fiestas that are often included.
Celebremos el día de los niños/el día de los libros de Pat Mora & Rafael López
Los niños leen en voz alta en varios escenarios para celebrar El día de los niños, o el Día del Niño, en esta historia bilingüe. Incluye datos sobre la celebración anual de los niños en México y las fiestas del libro que a menudo se incluyen.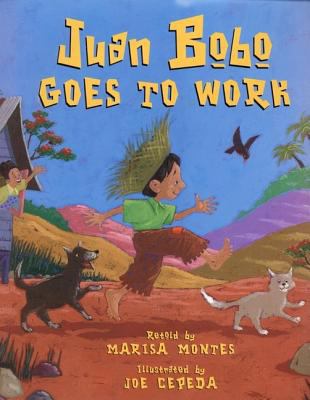 Juan Bobo Goes to Work: a Puerto Rican folktale by Marisa Montes & Joe Cepeda
What can you do with a boy who tries to do things right but only leaves disaster in his wake? Laugh--that's what! Readers everywhere will love to laugh at the hilarious antics of the ever-blundering Juan Bobo, Puerto Rico's most celebrated fold character. In this rollicking Juan Bobo tale, our hero sets out to find work at the farm and the grocery. Although the tasks are simple and the directions couldn't be clearer, he always find a way to bungle things up as only a character whose name means "Simple John" could!
Juan Bobo va a trabajar de Marissa Montes & Joe Cepeda
¿Qué puedes hacer con un chico que intenta hacer las cosas bien pero solo deja un desastre a su paso? Ríe, ¡eso es! A los lectores de todo el mundo les encantará reírse de las divertidísimas payasadas del siempre torpe Juan Bobo, el personaje de doblez más célebre de Puerto Rico. En este divertido cuento de Juan Bobo, nuestro héroe se propone encontrar trabajo en la granja y en la tienda de comestibles. Aunque las tareas son simples y las instrucciones no podrían ser más claras, él siempre encuentra la manera de estropear las cosas, ¡como solo un personaje cuyo nombre significa "Simple John" podría hacerlo!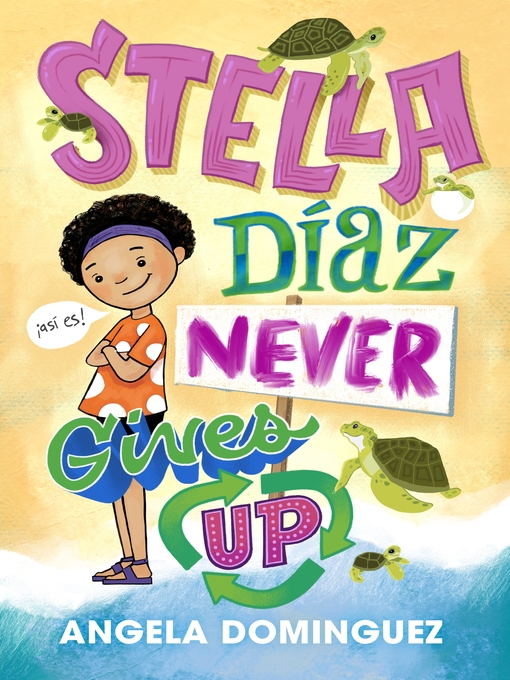 Stella Díaz never gives up by Angela Dominguez
"Stella gets a big surprise when her mom plans a trip to visit their family in Mexico! Stella loves marine animals, and she can't wait to see the ocean for the first time . . . until she arrives and learns that the sea and its life forms are in danger due to pollution. Stella wants to save the ocean, but she knows she can't do it alone. It's going to take a lot of work and help from old and new friends to make a difference, but Stella Díaz never gives up!"--Jacket flap.
Stella Díaz nunca se rinde, de Angela Domínguez
"¡Stella recibe una gran sorpresa cuando su mamá planea un viaje para visitar a su familia en México! Stella ama a los animales marinos y no puede esperar a ver el océano por primera vez ... hasta que llega y se entera de que el mar y sus formas de vida están en peligro debido a la contaminación. Stella quiere salvar el océano, pero sabe que no puede hacerlo sola. Va a necesitar mucho trabajo y la ayuda de viejos y nuevos amigos para marcar la diferencia, pero Stella ¡Díaz nunca se rinde! "- Solapa de chaqueta.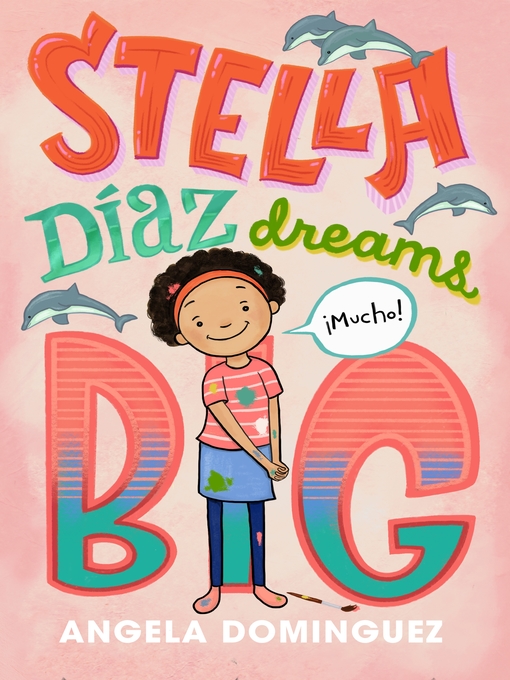 Stella Díaz dreams big by Angela Dominguez
"Stella is happy as a clam in fourth grade. She's the president of the Sea Musketeers conservation club, she starts taking swim lessons, and she joins a new art club at school. But as her schedule fills up, school gets harder, too. Suddenly the tides have turned, and she is way too busy!"--Provided by publisher.
Stella Díaz sueña en grande de Angela Dominguez
"Stella está feliz como una almeja en cuarto grado. Es la presidenta del club de conservación Sea Musketeers, comienza a tomar lecciones de natación y se une a un nuevo club de arte en la escuela. Pero a medida que su agenda se llena, la escuela también se vuelve más difícil. De repente, las mareas han cambiado, ¡y ella está demasiado ocupada! "- Proporcionado por el editor.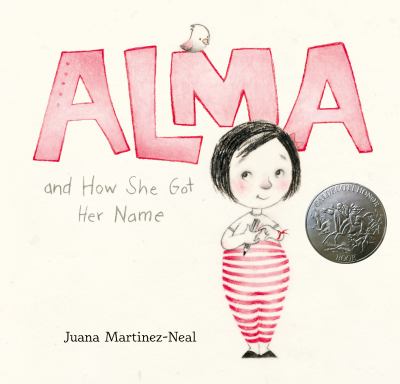 Alma and How She Got Her Name by Juana Martinez-Neal
When Alma Sofia Esperanza José Pura Candela asks her father why she has so many names, she hears the story of her name and learns about her grandparents
Alma y cómo consiguió su nombre de Juana Martinez-Neal
Cuando Alma Sofia Esperanza José Pura Candela le pregunta a su padre por qué tiene tantos nombres, escucha la historia de su nombre y se entera de sus abuelos
An illustrated picture book autobiography in which award-winning author Yuyi Morales tells her own immigration story
Soñadores de Yuyi Morales
Una autobiografía ilustrada en un libro en el que la galardonada autora Yuyi Morales cuenta su propia historia de inmigración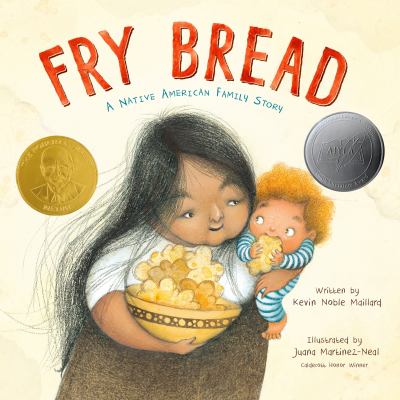 Fry Bread by Kevin Noble Maillard
Using illustrations that show the diversity in Native America and spare poetic text that emphasizes fry bread in terms of provenance, this volume tells the story of a post-colonial food that is a shared tradition for Native American families all across the North American continent. Includes a recipe and an extensive author note that delves into the social ways, foodways, and politics of America's 573 recognized tribes
Pan Frito de Kevin Noble Maillard
Utilizando ilustraciones que muestran la diversidad de los nativos americanos y un texto poético libre que enfatiza el pan frito en términos de procedencia, este volumen cuenta la historia de una comida poscolonial que es una tradición compartida por las familias nativas americanas en todo el continente norteamericano. Incluye una receta y una extensa nota de autor que profundiza en las formas sociales, las formas de comer y la política de las 573 tribus reconocidas de Estados Unidos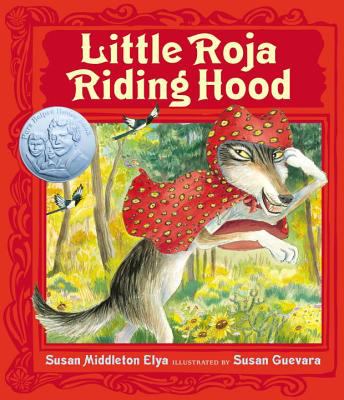 Little Roja Riding Hood by Susan Middleton Elya
A rhyming twist on the classic fairy tale in which a little girl saves her grandmother from a wolf. Includes glossary of Spanish words
Caperucita Roja de Susan Middleton Elya
Un giro en rima del clásico cuento de hadas en el que una niña salva a su abuela de un lobo. Incluye glosario de palabras en español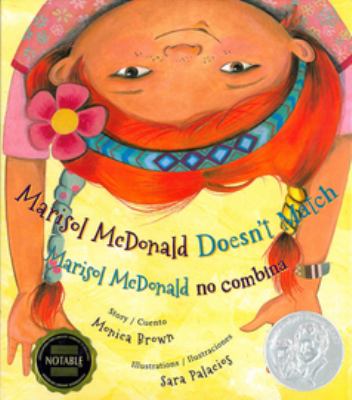 Marisol McDonald Doesn't Match by Monica Brown
Try as she might, in a world where everyone tries to put this biracial, Peruvian-Scottish-American girl into a box, Marisol McDonald doesn't match. And that's just fine with her.
Marisol McDonald No Combina de Monica Brown
Por más que lo intente, en un mundo donde todos tratan de poner a esta niña birracial, peruana-escocesa-americana, en una caja, Marisol McDonald no coincide. Y esta bien para ella.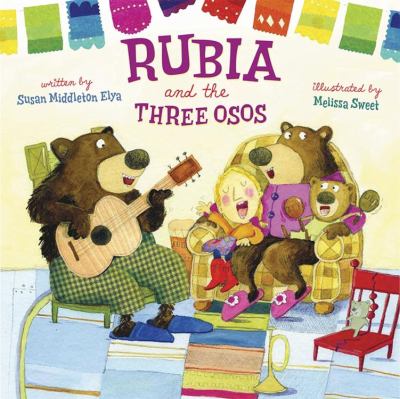 Rubia and the Three Osos by Susan Middleton Elya
Retells the story of Goldilocks and the three bears in rhyming text interspersed with Spanish words, which are defined in a glossary
Rubia y los tres Osos de Susan Middleton Elya
Vuelve a contar la historia de Ricitos de Oro y los tres osos en un texto en rima intercalado con palabras en español, que se definen en un glosario
Craft
Make a beautiful sun catcher with pony beads to celebrate the colors of the Latinx world. Adult assistance and supervision required
Arte
Haga estos hermoso captadore de sol con cuentas para celebrar los colores del mundo Latinx. Se requiere ayuda y supervisión de un adulto