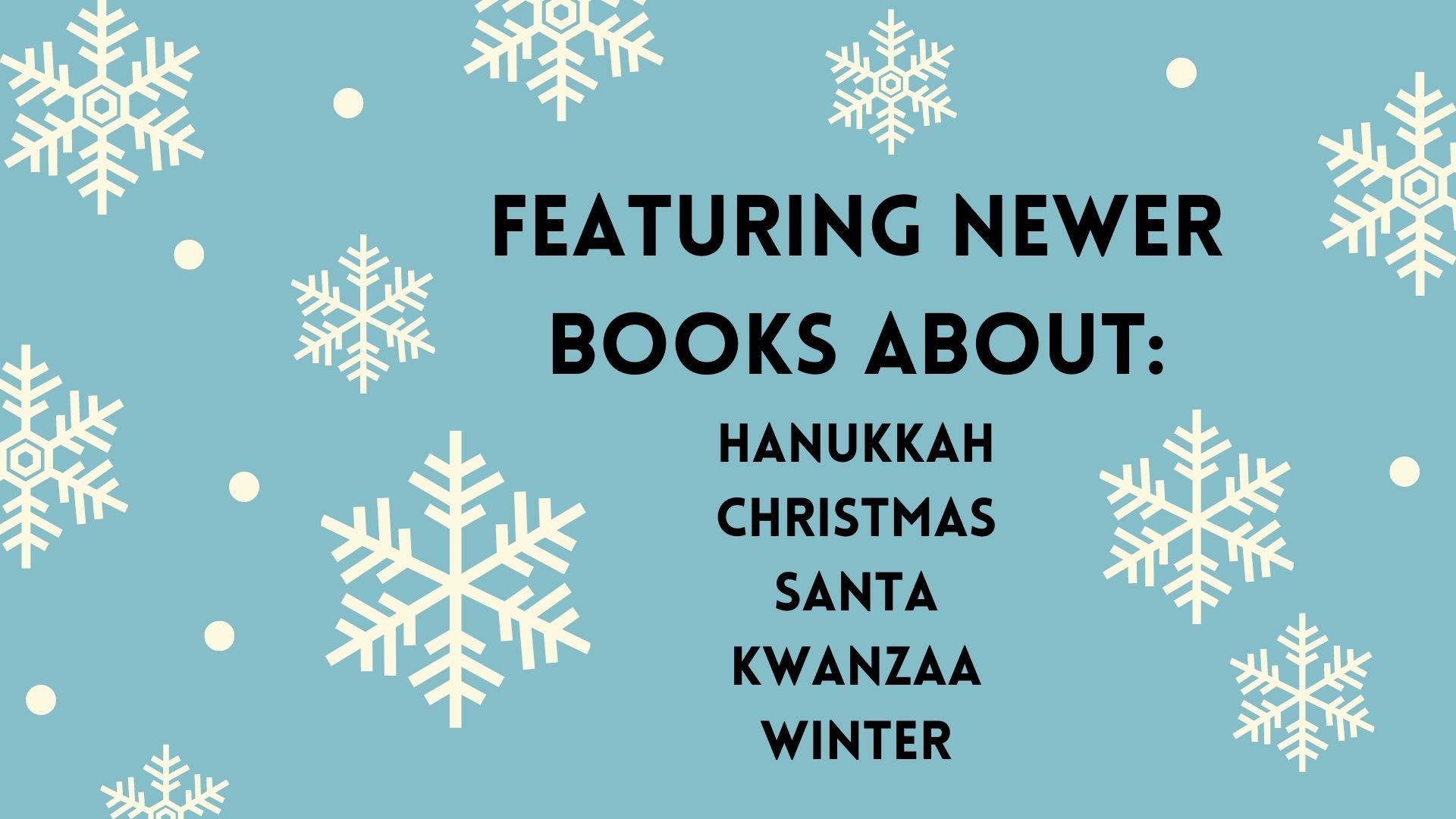 Whether you celebrate a holiday during the season or just enjoy winter, we've got some newer books for kids to read!
Newer Kids Books for Hanukkah
The Eight Knights of Hanukkah
On the last night of Hanukkah, Lady Sadie summons her children, the Eight Knights of Hanukkah, to stop the dastardly dragon that is interrupting party preparations, using kindness and bravery. Includes notes on the traditions of Hanukkah and directions for playing the dreidel game.
Is it Hanukkah yet? 
A little girl waits with great anticipation all day until the sun sets and Hanukkah can begin. 
Golden dreidel
After receiving a magic dreidel at Aunt Leah's Chanukah party, Sara is catapulted into an alternate world where she must save a princess from the likes of demons, fools, and clever riddles.
The Hanukkah magic of Nate Gadol
Introducing Nate Gadol, a new larger-than-life holiday hero who brings Hanukkah wonder and generosity to all those in need. He is a generous spirit whose magic can make things last exactly as long an they're needed. When the Glaser family immigrates to the United States, their first Hanukkah looks like it will be a meager one. And their neighbors are struggling too, with money scarce and Christmas around the corner. Even Santa's spirits are running low. Luckily, Nate Gadol has enough magic to make this a miraculous holiday for all.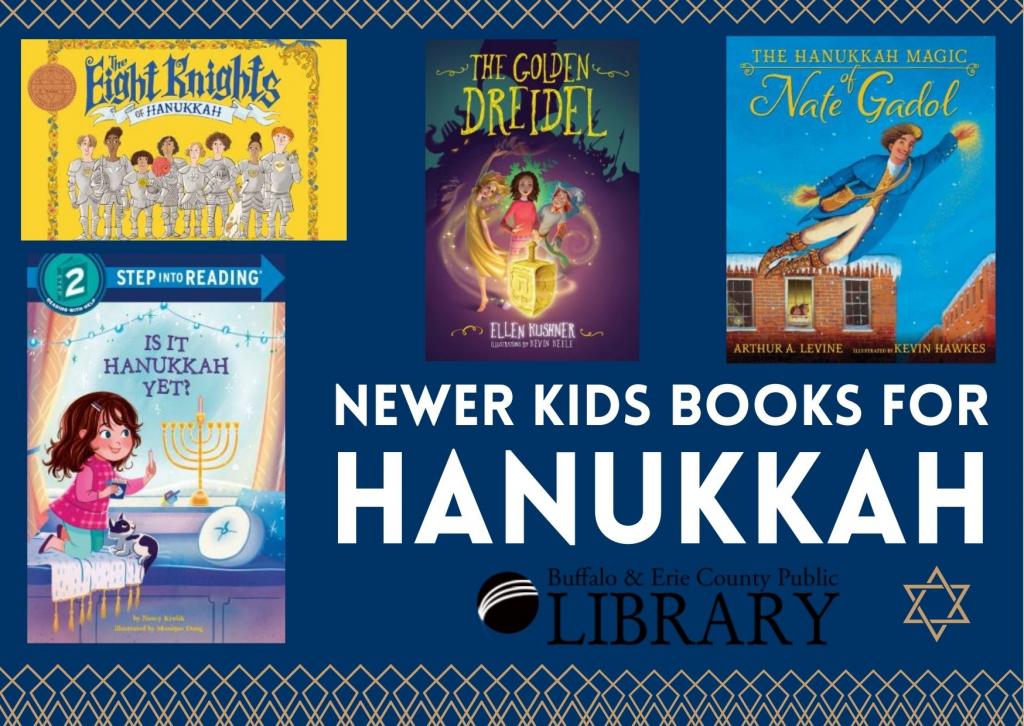 Newer Kids Books for Christmas
20 big trucks in the middle of Christmas
From a doughnut truck to a snowplow to a crane, twenty big trucks are on their way to a Christmas celebration in the middle of town.
A simple Christmas on the farm
A young girl is skeptical when her parents declare they will have a simple Christmas focused on giving rather than getting, but soon their old barn is filled with food, fun, friends, and homemade gifts. Includes directions for making star ornaments, Christmas card coasters, and melted crayon rocks.
Christina's carol : featuring the classic Christmas Carol "In the bleak midwinter" by Christina Rossetti
Presents an illustrated version of the Christmas carol written by English poet Christina Rosetti.
Bulldozer's Christmas dig
It's Christmas Eve and Bulldozer doesn't know what to get his friends for Christmas. With a little creativity, he will turn trash into treasure.
The Christmas pig
Jack loves his childhood toy, Dur Pig. DP has always been there for him, through good and bad. Until one Christmas Eve something terrible happens -- DP is lost. But Christmas Eve is a night for miracles and lost causes, a night when all things can come to life...even toys. And Jack's newest toy -- the Christmas Pig (DP's replacement) -- has a daring plan: Together they'll embark on a magical journey to seek something lost, and to save the best friend Jack has ever known.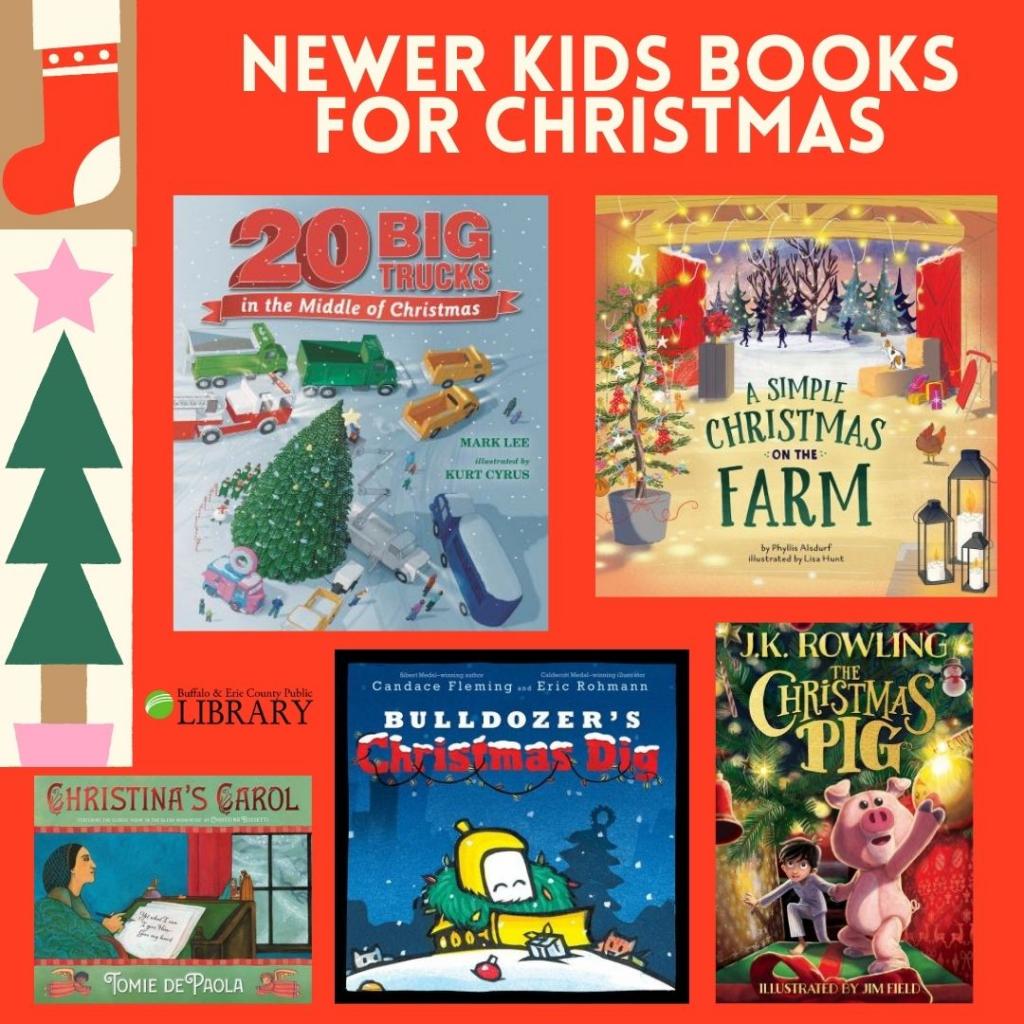 Newer Santa-themed Books for Kids
Super Santa : the science of Christmas
In this eye-opening picture book, the science and engineering behind the extraordinary things Santa achieves every Christmas in order bring millions of presents to children around the world are revealed.
Tiny reindeer
Santa's littlest reindeer goes on a journey to find a place where he fits right in.
Who will pull Santa's sleigh?
Auditioning animals to pull his sleigh for his first Christmas, Santa is dismayed to discover that no one seems quite right for the job, in this hilarious, behind-the-scenes story about Santa's reindeer crew.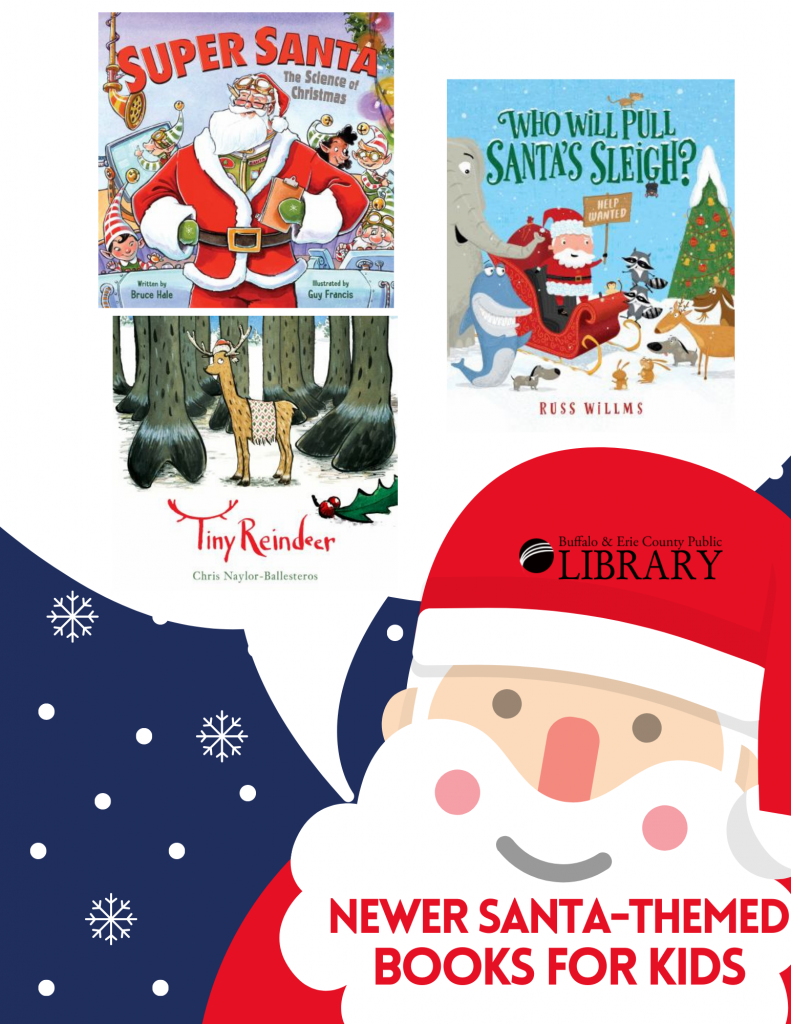 Newer Kids Books for Kwanzaa
The people remember
Recounts the journey of African descendants in America by connecting their history to the seven principles of Kwanzaa.
Kwanzaa 
An overview of Kwanzaa, from the origin of the celebration to how it is practiced today.

Newer Winter-themed Books for Kids
The littlest yak
Gertie is the littlest yak, feeling stuck in her smallness--she wants to grow UP and have bigness and tallness. But when it turns out that there are some things that only Gertie can do, might she come to see that she's perfect, just the way she is?
A polar bear in the snow
Follow a magnificent polar bear through a fantastic world of snow and shockingly blue sea. Over the ice, through the water, past Arctic animals and even a human...where is he going?
Always Everly
One spring, a pine tree named Everly sprouts in the woods where everyone is green. Fitting in feels great for Everly. But, uh-oh, one day all of the other trees begin to change--their greens turn to bright yellows and reds. Everly wants to change just like her friends, but . . . what's an evergreen to do? With the help of her friends, Everly soon realizes she is perfect just the way she is and starts to glow in her own special way. Readers will be inspired as Everly's confidence grows in this heartwarming story perfect for every season.
A Thing Called Snow
Fox and Hare were born in spring, grew up in summer, and were best friends by autumn. When winter comes, they can't wait to jump, leap and, bounce in this thing called snow. But what exactly is snow? Join fox and hare on an Arctic journey as they ask all their friends to help them find out.
Sabrina Sue loves the snow
Sabrina Sue is a small chicken who lives on a farm but dreams of far away places, and one day she decides to go and see the snow, so she finds a place that has snow and sets out by truck and train to get there.