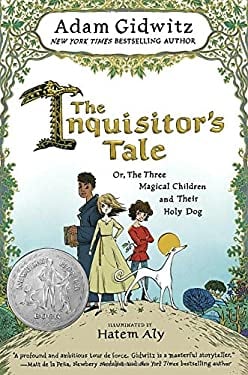 Are you in 5th-8th grade? Do you love to read?  
Reader's Quest Book Group
A book and activity group for youth in 5th-8th grade. 
The program is available in two formats: virtual and in-person
Step one: Sign up. Participants receive a book to keep
Step two: Read the book
Step three: Decide if you would like to join us in-person or online, for a related program, or both!
Online version: Join us for a mellow trivia contest based on questions from the book
In-person @ the Central Library: Join us for an interactive program based on the book
November
Book: Inquisitor's Tale
Crossing paths at an inn, thirteenth-century travelers impart the tales of a monastery oblate, a Jewish refugee, and a psychic peasant girl with a loyal greyhound, the three of whom join forces on a chase through France to escape persecution.
In-person Program @ Central:
Saturday, November 12, 11-12:30
Virtual Program via Zoom
Saturday, November 26, 10-11:30
Join us, via zoom, for a mellow trivia contest based on the book