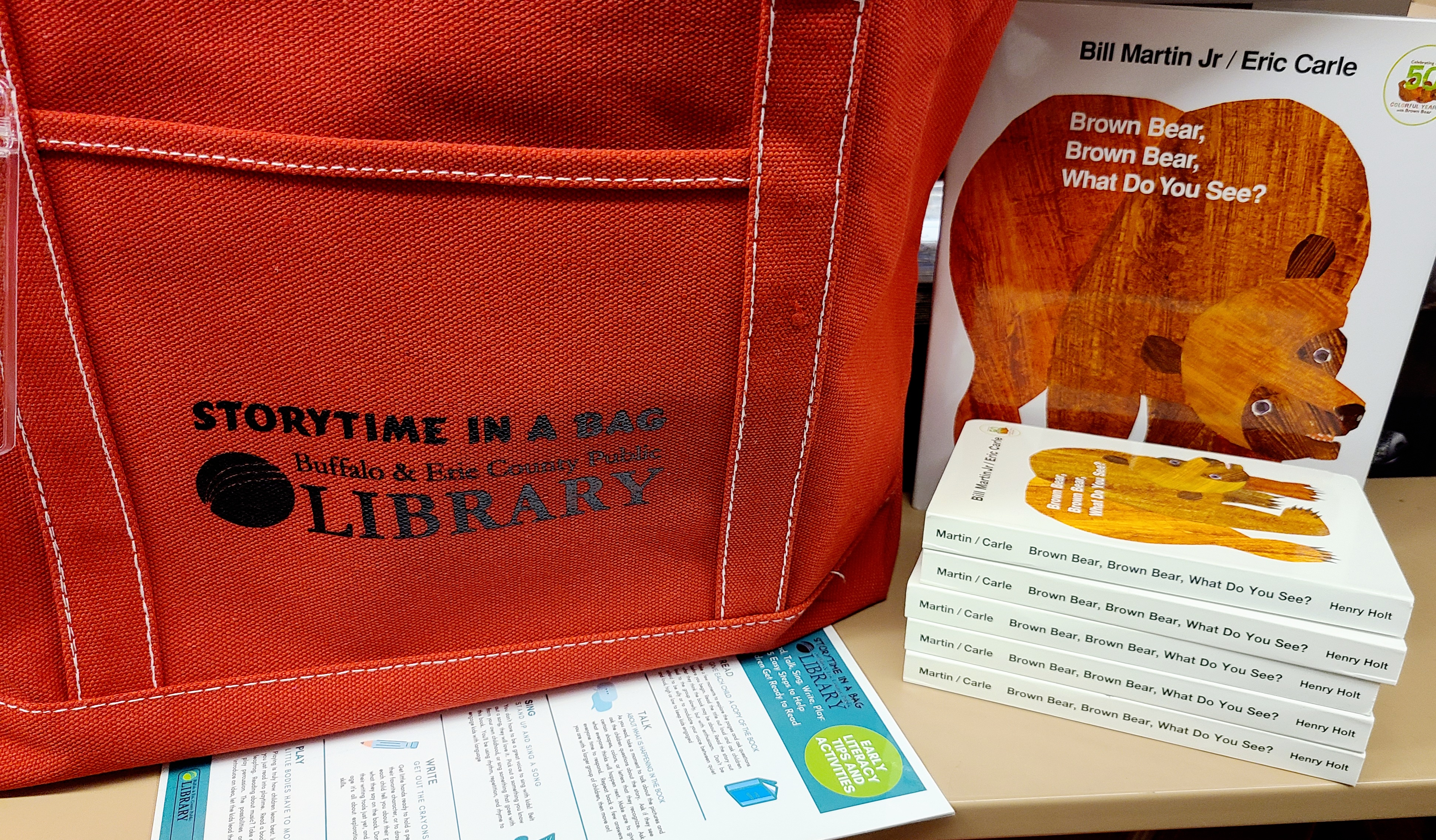 Ideal for preschools, daycare centers, and homeschool groups, Storytime in a Bag is a book club for little ones.  Each Storytime in a Bag kit includes 15 board book copies of a beloved children's picture book, along with a copy for facilitators to read aloud, so each child has their own copy to hold and explore!  Each kit comes with early literacy tips to get your group talking, singing, reading, writing, and playing -- the building blocks of early literacy that help get children ready to read!  Kits can be reserved through the library catalog and shipped to a Buffalo & Erie County Public Library near you!
Storytime in a Bag titles include:
Big Red Barn by Margaret Wise Brown 
Chicka Chicka Boom Boom by Bill Martin 
Brown Bear, Brown Bear, What Do You See? by Bill Martin, Eric Carle  
Don't Push the Button by Bill Cotter
Flutterby Butterfly: A Slide-And-Seek Book by Emma Parrish  
Good Night, Gorilla by Peggy Rathmann
Hop on Pop by Dr. Seuss
Hoppity Frog: A Slide-And-Seek Book by Emma Parrish  
Llama Llama Red Pajama by Anna Dewdney
Moo, Baa, La La La! by Sandra Boynton
One Fish, Two Fish, Three, Four, Five Fish by Dr. Seuss
Owl Babies by Martin Waddell
Peek-A Who? by Nina Laden
Press Here by Hervé Tullet
The Very Hungry Caterpillar by Eric Carle
Please note the following:
The loan period is three weeks -- No renewals are allowed
Bags may be returned to any Buffalo and Erie County Public Library location
Please do not return bag via a book drop; return to the in-person check-in desk
Borrower is limited to two bags per library card at any time
Overdue charges are $1.00 per day with a $10.00 maximum
When returning, please double check items' condition and that everything is in the tote (including accompanying sheets). Charges will apply for lost or damaged items.
If you have any questions or suggestions, please contact the Central Library Children's Services & Outreach team via phone
(716) 858-7192 or email Childrens14203@gmail.com