Battle of the Books is a summer reading program and team trivia competition for students entering grades 6 – 9.
The 2022 Battle of the Books final competition will be virtual to ensure the safety of all participants. Participating libraries have registration for teams in late spring and early summer. Registration dates and meeting schedules are determined by each individual library.
---
2022 Trivia Titles

Small Spaces by Katherine Arden
After "rescuing" a book from a crazed woman threatening to throw it in the river, eleven-year-old Ollie is captivated by its chilling tale of "the smiling man," a sinister specter who grants your most tightly held wish - for the ultimate price. Then, on a school trip the next day to a local farm, she finds the graves of the very people she's been reading about. Could the story be true? She doesn't have long to think about the answer to that: On the way home, the bus breaks down, and Ollie's previously broken digital wristwatch, a keepsake reminder of better times, begins a startling countdown and delivers a terrifying message: RUN.
A Face Like Glass by Frances Hardinge
In the underground city of Caverna, the world's most skilled craftsmen create delicacies beyond compare - wines that remove memories, cheeses that make you hallucinate, and perfumes that convince you to trust the wearer, even as they slit your throat. On the surface, the people of Caverna seem ordinary, except for one thing: their faces are as blank as untouched snow. Expressions must be learned, and only the famous Facesmiths can teach a person to express - or fake - joy, despair, or fear. Into this dark and distrustful world comes Neverfell, a girl with no memory of her past and a face so terrifying to those around her that she must wear a mask at all times.
Mia Tang has a lot of secrets. Number 1: She lives in a motel. Every day, while her immigrant parents clean the rooms, ten-year-old Mia manages the front desk and tends to its guests. Number 2: Her parents hide immigrants. And if the mean motel owner, Mr. Yao, finds out they've been letting them stay in the empty rooms for free, the Tangs will be doomed. Number 3: She wants to be a writer. But how can she when her mom thinks she should stick to math because English is not her first language? Will Mia be able to hold on to her job, help the immigrants and guests, escape Mr. Yao, and go for her dreams?
Miss Peregrine's Home for Peculiar Children by Ransom Riggs
2022 Art Contest Title
In this unforgettable novel that mixes fiction and photography in a thrilling reading experience, as our story opens, a horrific family tragedy sets sixteen-year-old Jacob journeying to a remote island off the coast of Wales, where he discovers the crumbling ruins of Miss Peregrine's Home for Peculiar Children. As Jacob explores its abandoned bedrooms and hallways, it becomes clear that the children were more than just peculiar. They may have been dangerous. They may have been quarantined on a deserted island for good reason. And somehow - impossible though it seems - they may still be alive.
If you're a member of a Battle of the Books team, you can view the rules and submit your art contest entry here.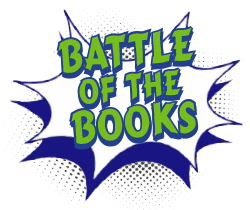 In 2021 the Lancaster Public Library teams were the Battle of the Books champions in our first ever virtual competition.
The #1 Summer reading program and team trivia competition for students entering 6th through 9th grade. To sign up, visit your local library today.  You can't win if you're not in it!
Wonder what "Battle" is like?  Check out this video!
Battle Stories
From Orchard Park: Jacob was 12 years old and a first time Battle participant last year. Jacob was always smiling... he really liked being part of a "team". He will be back to compete for Orchard Park in 2008.
From Lackawanna: Lackawanna has fielded a battle team since 2001. Nick joined the team in 2005 at age 11. He is a bright boy with a great memory for details. The Battle of the Books is an activity where children like Nick can shine. He reads all 6 books, writes many questions and acted as the team's spokesperson in 2007. Nick is a great asset to the Lackawanna team!
From Newstead: Jason joined the Newstead team in 2006 as a 6th grader. He had always had difficulty reading because of an eye condition. He was working with a behavioral ophthalmologist to who worked with him to train his eyes to "work together". Participating in Battle in 2006 was a struggle, but 2007 was a much better year and Jason really enjoyed it. He is looking forward to helping the team in 2008!
Behind the Scenes
The success of the Battle of the Books program is vitally dependent on the many dedicated volunteers. The question writers and readers are a major component to the success of the competition. Many of the volunteers return year after year because they enjoy the experience and enthusiasm of the participants and their families! They are current and former library employees, teachers, and school and college librarians.
How Battle Changed My Life
When I put my name on the piece of paper ten years ago for Battle of the Books, I had no clue how it would come to change my life. I had always loved to read books, and that summer when I had the chance to enter into a contest that revolved around reading, I leapt at the chance. Over the next two years, I came to know Mrs. Forsberg, one of the librarians at Orchard Park. I had reached the age limit for doing Battle, but continued to spend y time devouring different books. Four years later, when I applied for a job at the Orchard Park Library, it was her who hired me because she remembered me from my time doing Battle. Working at Orchard Park was a wonderful experience that opened the door for me to work downtown in the bookstore. Last summer I wished to go back where it all began, and I decided to be an assistant coach to one of the teams from Orchard Park for Battle of the Books. I spent my Tuesday nights helping the students answer questions and understand the books. However, it was while I was working at Orchard Park that I came to realize that I wished to always work in a library. It was this realization that inspired me to apply to library school at the University at Buffalo. I am now currently finishing up my first semester of grad school, and when I look back, I realize that had I not signed up for Battle of the Books ten years ago. I would not be where I am today. ~ Sara