Battle of the Books is a summer reading program and team trivia competition for students entering grades 6 – 9.
The 2022 Battle of the Books final competition will be virtual to ensure the safety of all participants. Participating libraries have registration for teams in late spring and early summer. Registration dates and meeting schedules are determined by each individual library.
---
2023 Trivia Titles
Amari and the Night Brothers, by B.B. Alston

Amari has never stopped believing her missing brother, Quinton, is alive, no matter who says otherwise. So when she finds a ticking briefcase in his closet, containing a nomination for a tryout at the Bureau of Supernatural Affairs, she's certain this holds the key to locating him - if only she can wrap her head around the idea of magicians, fairies, aliens, and other supernatural creatures all being real. Now she must compete for a spot against kids who've known about magic their whole lives, whose doubt and scrutiny she can't escape. Amari has never felt more alone - but if she doesn't stick it out and pass the tryouts, she may never find out what happened to Quinton.

Sal and Gabi Break the Universe, by Carlos Hernandez

When Sal first meets Gabi, it isn't under the best circumstances: Sal is in the principal's office for the third time in three days, and Gabi is there to prove that Sal planted a raw chicken in her friend's locker, even though nobody saw him do it and the poultry has since disappeared. Sal prides himself on being an excellent magician, but for this sleight of hand, he relied on a talent no one would guess. When Gabi learns that he's capable of conjuring things much bigger than a chicken - including his dead mother - and takes it all in stride, Sal knows that she is someone he can work with. There's only one slight problem: their manipulation of time and space could put the entire universe at risk.

When eleven-year-old Jingwen moves to a new country, he feels like he's landed on Mars. School is torture, making friends is impossible since he doesn't speak English, and he's often stuck looking after his (extremely irritating) little brother, Yanghao. To distract himself from the loneliness, Jingwen daydreams about making all the cakes on the menu of Pie in the Sky, the bakery his father had planned to open before he unexpectedly passed away. The only problem is his mother has laid down one major rule: the boys are not to use the oven while she's at work. As the brothers bake elaborate cakes, they'll have to cook up elaborate excuses to keep this secret from Mama.

2023 Creative Contest Title

Battle of the Books 2023 Kids' Choice Winner

The final book hasn't been decided yet. Go vote in our Kids' Choice survey to help us decide what it will be!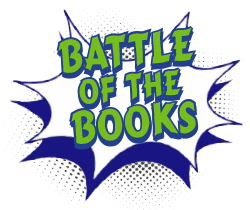 In 2021 the Lancaster Public Library teams were the Battle of the Books champions in our first ever virtual competition.
The #1 Summer reading program and team trivia competition for students entering 6th through 9th grade. To sign up, visit your local library today.  You can't win if you're not in it!
Wonder what "Battle" is like?  Check out this video!
Battle Stories
From Orchard Park: Jacob was 12 years old and a first time Battle participant last year. Jacob was always smiling... he really liked being part of a "team". He will be back to compete for Orchard Park in 2008.
From Lackawanna: Lackawanna has fielded a battle team since 2001. Nick joined the team in 2005 at age 11. He is a bright boy with a great memory for details. The Battle of the Books is an activity where children like Nick can shine. He reads all 6 books, writes many questions and acted as the team's spokesperson in 2007. Nick is a great asset to the Lackawanna team!
From Newstead: Jason joined the Newstead team in 2006 as a 6th grader. He had always had difficulty reading because of an eye condition. He was working with a behavioral ophthalmologist to who worked with him to train his eyes to "work together". Participating in Battle in 2006 was a struggle, but 2007 was a much better year and Jason really enjoyed it. He is looking forward to helping the team in 2008!
Behind the Scenes
The success of the Battle of the Books program is vitally dependent on the many dedicated volunteers. The question writers and readers are a major component to the success of the competition. Many of the volunteers return year after year because they enjoy the experience and enthusiasm of the participants and their families! They are current and former library employees, teachers, and school and college librarians.
How Battle Changed My Life
When I put my name on the piece of paper ten years ago for Battle of the Books, I had no clue how it would come to change my life. I had always loved to read books, and that summer when I had the chance to enter into a contest that revolved around reading, I leapt at the chance. Over the next two years, I came to know Mrs. Forsberg, one of the librarians at Orchard Park. I had reached the age limit for doing Battle, but continued to spend y time devouring different books. Four years later, when I applied for a job at the Orchard Park Library, it was her who hired me because she remembered me from my time doing Battle. Working at Orchard Park was a wonderful experience that opened the door for me to work downtown in the bookstore. Last summer I wished to go back where it all began, and I decided to be an assistant coach to one of the teams from Orchard Park for Battle of the Books. I spent my Tuesday nights helping the students answer questions and understand the books. However, it was while I was working at Orchard Park that I came to realize that I wished to always work in a library. It was this realization that inspired me to apply to library school at the University at Buffalo. I am now currently finishing up my first semester of grad school, and when I look back, I realize that had I not signed up for Battle of the Books ten years ago. I would not be where I am today. ~ Sara