Join us on Tuesday, June 20, 2023 @ 4pm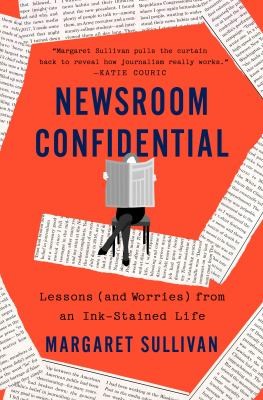 Book Title: "Newsroom Confidential-Lessons (and Worries) From an Ink Stained Life" by Margaret Sullivan
Book Summary: Sullivan began her career at the Buffalo News, where she rose from summer intern to editor in chief. In Newsroom Confidential, she chronicles her years in the trenches battling sexism and throwing elbows in a highly competitive newsroom. In 2012, Sullivan was appointed the public editor of The New York Times, the first woman to hold that important role. She was in the unique position of acting on behalf of readers to weigh the actions and reporting of the paper's staff, parsing potential lapses in judgment, unethical practices, and thorny journalistic issues. With her celebrated mixture of charm, sharp-eyed observation, and nuanced criticism, Sullivan takes us behind the scenes of the nation's most influential news outlets to explore how Americans lost trust in the news and what it will take to regain it.
Discussed By: Margaret Sullivan - Local Author
Venue:
Amherst Senior Center
370 John James Audubon Pkwy
Amherst, NY 14228
RSVP required. You MUST reserve your seat by 3pm on Friday, June 16, 2023 for this event by calling 716-636-3051 and provide your name and phone number. If you call to reserve for more than one person you must provide each person's name and phone number.
* Suggested donation of $2 per person is greatly appreciated. Your donation helps Bistro Bookers to continue to hold these reviews and donate back to our community literacy programs. Your donation allows us to purchase the reviewers book if necessary and give them a gift for their time.
**Masks are encouraged at this time, please make sure you bring yours just in case. **