Central Library hours
Monday, Tuesday, Wednesday, Thursday 8:00 am - 7:00 pm
Friday 9:00 am - 5:00 pm
Saturday 9:00 am - 5:00 pm
Sunday 12 noon - 5:00 pm
Important - the Library's Ellicott Street entrance now closes at 3 p.m. weekdays.
Please use the fully accessible Washington Street doors to enter/exit the building Monday - Friday after 3:00 pm.
Located across from Lafayette Square, between Broadway and Clinton Streets.
With the exception of weather-related or holiday closings, the downtown Central Library
is open 7 days a week during the school year*
Upcoming holiday when the Central Library will be closed:
Monday, June 19 for Juneteenth
Click here for programs at Central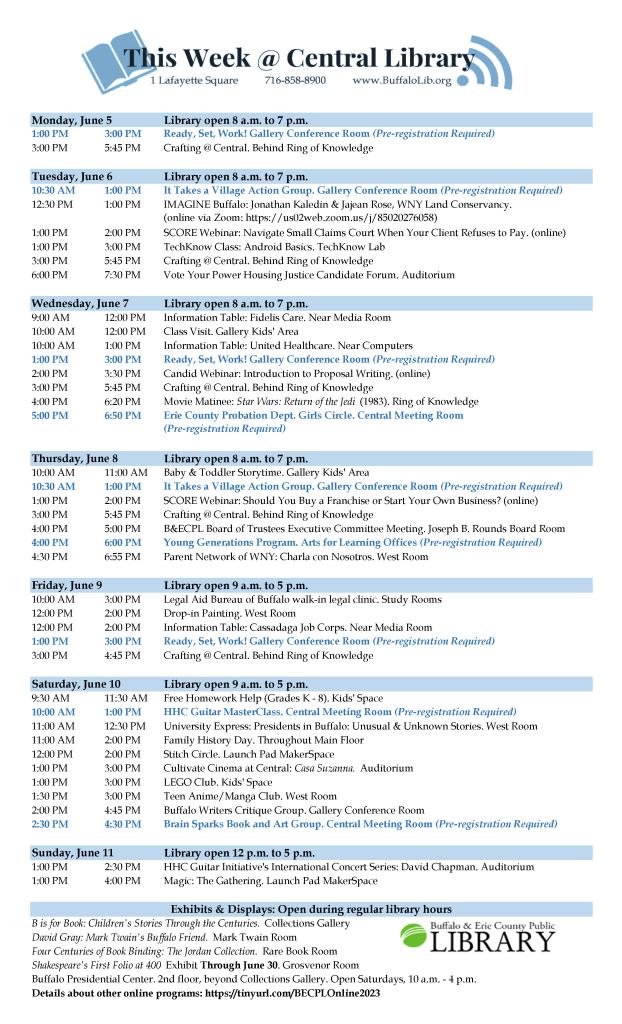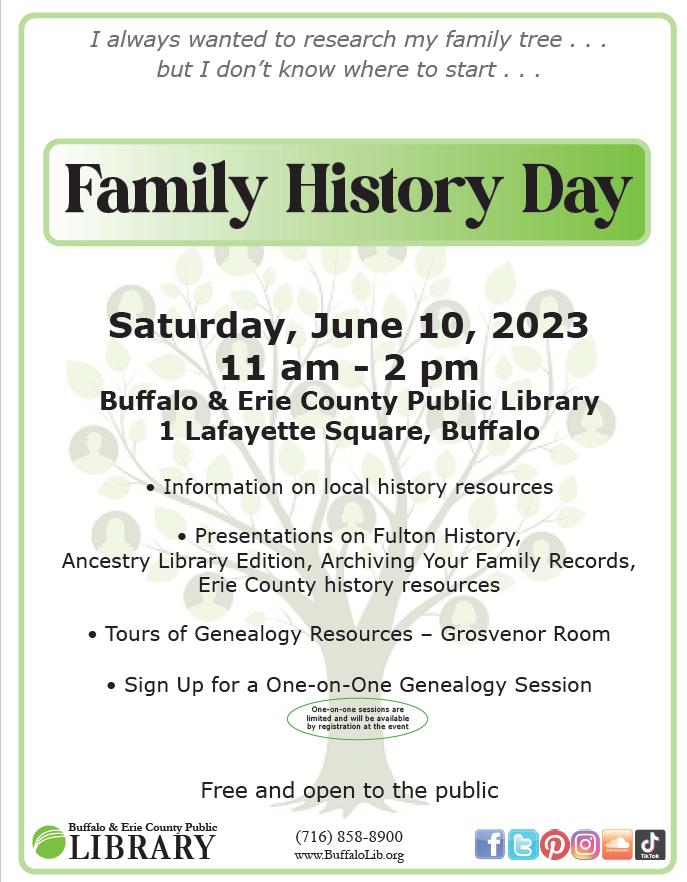 https://www.buffalolib.org/sites/default/files/users/cen/2023/Programs/Fam%20History%20Day%20flyer%202023.pdf

Imagining Buffalo Niagara in the 21st Century
A lecture/discussion series held every Tuesday at 12:30 p.m.
Currently due to the COVID-19 pandemic, the program is running virtually on Zoom.
Details are here.
Discussions are hosted by program founder Dennis Galucki. Call the Library for details about the speaker schedule, which is subject to change. 716-858-8900.
IMAGINE Buffalo is sponsored by the Center for the Study of Art, Architecture, History and Nature (C-SAAHN) in conjunction with the Buffalo & Erie County Public Library
Visit here for an archive of past IMAGINE Buffalo Zoom programs beginning in Fall 2020.

FREE Homework Help (Grades K-8)
Central Library Kids' Space
Saturdays, January 7 - June 17, 2023 (9:30-11:30am)
Math and ELA specialties, first come, first served and volunteer based.

We look forward to you coming to see our exhibit, B is for Book.
---
Hosting or participating in a Zoom/virtual meeting during these challenging times?
Here are a handful of Buffalo & Erie County Public Library Zoom backgrounds you can download for your own use.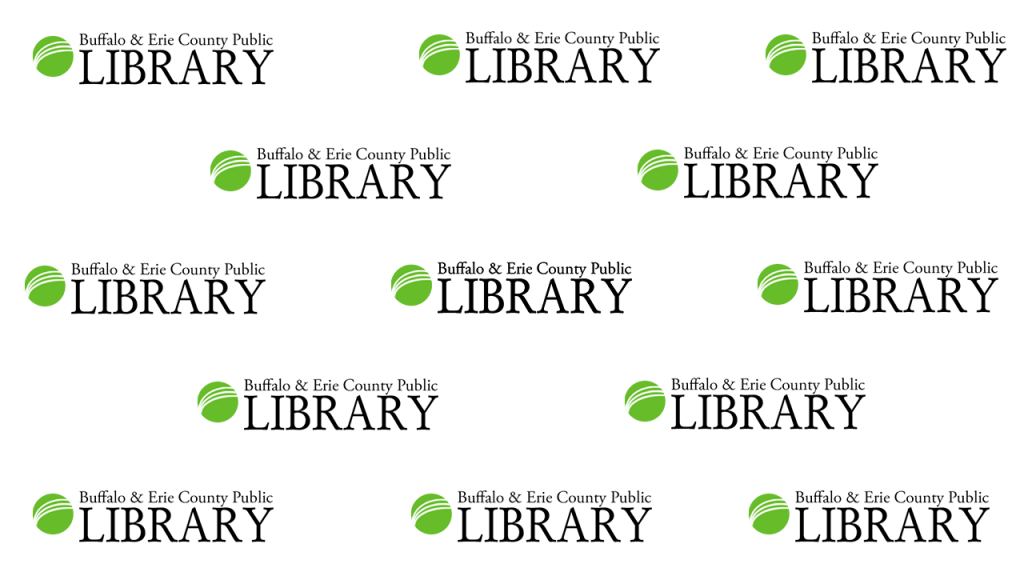 Front of the Central Library in the evening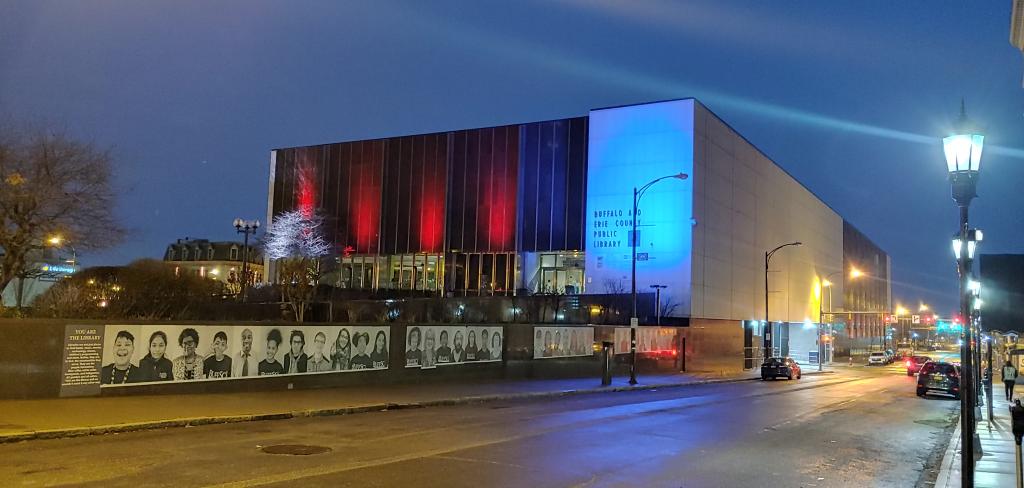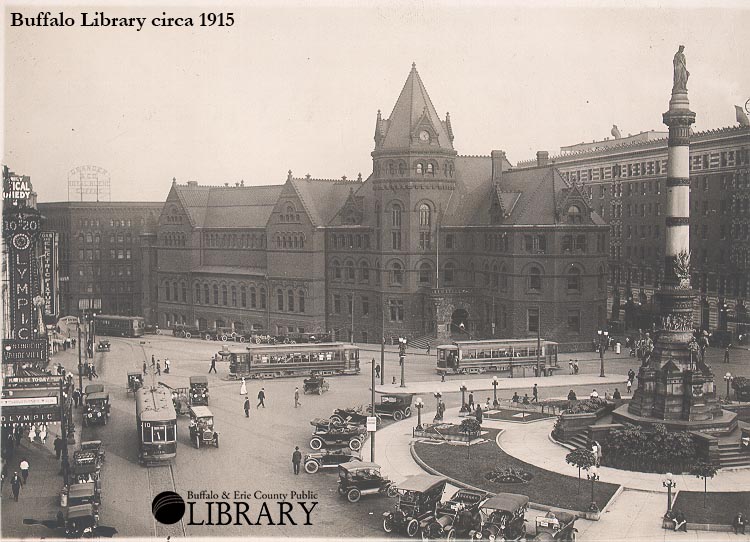 ---