---
Holiday Hours
The Library will be closed
Saturday, December 24th 
Monday, December 26th 
Monday, January 2nd (county observance)
The Library will be open Saturday, December 31st.
The Joseph Ellicott presentation has been rescheduled for Thursday, December 1st at 6pm.
Regular Library Hours   
Monday 9:30 am - 8:00 pm
Tuesday 9:30 am - 5:00 pm
Wednesday 9:30 am - 5:00 pm
Thursday 9:30 am - 8:00 pm
Friday 9:30 am - 5:00 pm
Saturday 9:30 am  - 5:00 pm
Curbside service is still available.  Please call 773-7124 for more information.
We are currently accepting material donations.  
Masks or facial coverings are optional while in the building. 
The book drop is open 24/7.
Please visit www.buffalolib.org for continued library system updates.
---
The Board of Trustees of the Grand Island Memorial Library (GIML) has an opening for a Trustee to fulfill a one year term. The Board meets approximately six times a year. The Board provides support to the Library Director and oversight of the library operations and finances.
Trustees must be residents of Grand Island.
Candidates who would like to be considered for this position should submit a letter of interest to the Board, care of GIML,
by December 2, 2022 to:
Board of Trustees
Grand Island Memorial Library
1715 Bedell Rd.
Grand Island, NY 14072
---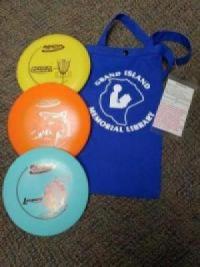 ---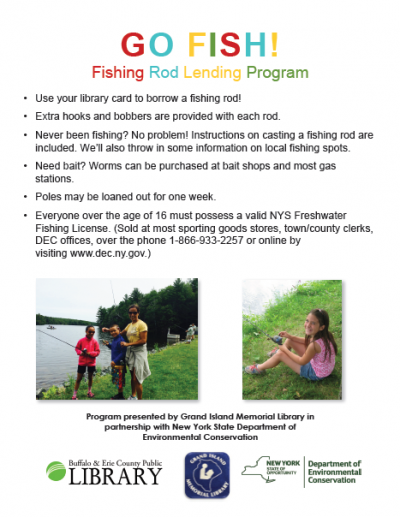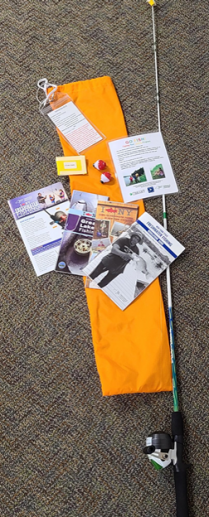 Please call 773-7124 for more information on how to check out a kit.
All kits must be returned to the circulation desk at the Grand Island Memorial Library during normal business hours.
Please note: these kits are not part of the B&ECPL Kids Sports Equipment Lending Program.
---
Book Club 2022 Selections
All meeting dates/times are Mondays at 6:30pm
The group meets in the library meeting room unless otherwise stated below.
Please call 773-7124 if you have any questions.
January 24th The Horse Dancer by Jojo Moyes
The January meeting will be held via Zoom.  Click here to join the meeting.
February 28th The Four Winds by Kristen Hannah
March 21st The Midnight Library by Matt Haig
April 18th Faithful Place by Tana French
May 16th A Long Petal of the Sea by Isabel Allende
June 20th The Mystery of Mrs. Christie by Marie Benedict
July 18th The Nickel Boys by Colson Whitehead
August 15th Quiet by Susan Cain
September 19th Unbroken by Laura Hillenbrand
October 17th Cloud Cuckoo Land by Anthony Doerr
November 21st American Dirt by Jeanine Cummins
December 19th The Vanishing Half by Brit Bennet
---
---
Winter 2023 Programs
To register for programs, stop in or call 716-773-7124
---
*New* Pint-Size Playgroup 
*Registration is REQUIRED*
January 28: Registration begins December 27
February 25: Registration begins January 28
March 25: Registration begins February 25
April 22: Registration begins March 25
May 27: Registration begins April 22
---
Kids Can Sew!
Free sewing lessons for kids ages 6-15.
**For more information and to register:
Email Dannelle at uniquetimedesigns@gmail.com or call 208-514-9067**
---
Storytimes
*Winter 2023 Sessions*
**Registration is REQUIRED**
***Please register for each session separately***
Itty Bitty Storytime
*REGISTRATION BEGINS JANUARY 10*
---
Preschool Storytime
*REGISTRATION BEGINS JANUARY 10*
---
LEGO Club
January 7: Registration begins December 3
February 4: Registration begins January 7
March 4: Registration begins February 4
April 1: Registration begins March 4
May 6: Registration begins April 1
---
Read To A Dog
December 10: Registration begins November 12
---
*2023 Sessions*
January 14: Registration begins December 10
February 11: Registration begins January 14
March 11: Registration begins February 11
April 8: Registration begins March 11
May 13: Registration begins April 8
---