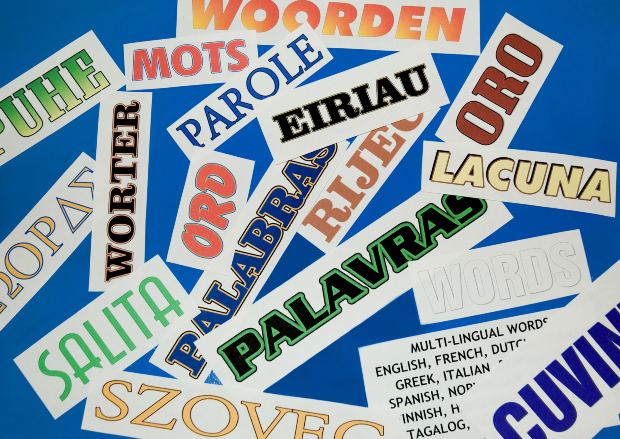 The Central library has a Foreign Fiction section, with books in a variety of native languages in addition to an ESL (English as a Second Language) section.  The Isaías González-Soto Branch Library also has an extensive collection of Spanish language materials.  Visit a local library to see what language kits they have available for learning a new language.  The library system also has various research databases translated into Spanish. 
Also, search "Learn language" or the name of the language you want to learn in OverDrive to see if you can download a language learning program for your PC or other portable device.
Check out our Immigrants, Refugees, and Non-Native English Speakers subject guide for links to ESL resources.
Websites  
busuu
Interactive language lessons, mobile apps, grammar guides and an online community to help with practicing language skills. Most courses are free, but there is the option of a premium membership for additional content.
Duolingo
Free online language learning, with courses in Spanish, English, French, German, Portuguese, and Italian. There are also apps for this website and a gamified approach to learning. Sign up through email or Facebook.
Google Translate
Free online language translation service instantly translates text and web pages
Health Information in Multiple Languages
Find health information in languages other than English with MedlinePlus.
Language Exchange
Find a partner at the online community and practice your second language (any language) with a native speaker who is learning your language.
OpenLearn
Produced by The Open University, a world leader in open and distance learning, all OpenLearn courses are free to study.
Community and Local Links 
Alliance Française de Buffalo
Offers French conversational classes and workshops year-round. From true beginner to advanced classes, all classes and workshops are taught by experienced native or near native French speakers. 
Buffalo Chinese School
The objective of the school is to provide an environment and opportunity for all interested (with or without Chinese heritage) students to learn Chinese language and culture. The school teaches standard Mandarin, its Romanization system, pinyin, and simplified characters. The school is affiliated to the Western New York Chinese Club and a member school of Chinese School Association of United States.
Buffalo Educational Opportunity Center
Offers a free ESL program with three levels: Basic, Intermediate, and Advanced. Registration requirements:  a New York State ID card, Proof of Income, and (if not a US citizen) an I-94 or Green Card.
Buffalo Public Schools Adult Education
Classes are available to improve English language skills, literacy, vocational education, and much more.  Free ESL and TOEFL classes are listed free of charge.  There are various online courses for a fee as well.
Centro Culturale Italiano di Buffalo
Non-profit organization whose purpose is to promote Italian culture in the Western New York area. The primary goal of the Center is to provide Italian lessons so as to preserve the Italian language in Western New York.
Erie 1 Boces (ESL)
Featuring free adult English classes of various levels, which include speaking, listening, writing and reading.
International Institute of Buffalo
Dedicated to assisting refugees and immigrants overcome language and cultural barriers so that they can become self-sufficient, productive members of the community. The Institute helps with learning English, getting oriented to life in America, acquiring job skills, seeking refuge from domestic violence, receiving interpreting and translation assistance, or learning about cultures, languages and countries around the world.
Literacy New York Buffalo-Niagara
Provides reading, English language learning and literacy services to anyone wishing to improve their literacy skills.
UB English Language Institute
Offers English language instruction, cultural orientation, and pre-academic training to international students, scholars, and professionals on an intensive and per-course basis.  Also, includes overseas programs offering language-learning and teacher-training opportunities both in other countries and in Buffalo.
WNY Deaf Access Services
A human services agency qualified to serve the needs of the deaf and hard of hearing.  The agency also offers training prep programs for applications who wish to become certified interpreters.
Library Materials
Click on the following topics for a quick search in the Library's Catalog.
Afrikaans
American Sign Language 
Amharic
Arabic
Bengali
Burmese
Cantonese
Chinese
Dutch
Egyptian Hieroglyphs
French
Gaelic
German
Greek
Hebrew
Hindi
Indonesian
Italian
Japanese
Karen
Korean
Language History
Latin
Linguistics
Mandarin
Norse
Norwegian
Old English
Persian
Polish
Portuguese
Russian
Slang
Spanish
Swahili
Swedish
Tagalog
Thai
Ukrainian
Urdu
Vietnamese
Welsh
Yiddish