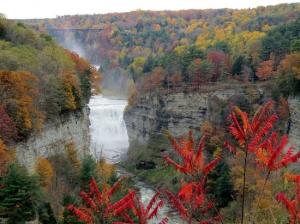 Websites
Buffalo Division of Parks and Recreation
The City of Buffalo Division of Parks and Recreation is entrusted with the care and oversight of more than 180 parks and recreational facilities, including the historic Frederick Law Olmsted designed park and parkway system, seven recreation centers, twelve public pools and four public ice rinks as well as management of the street and park trees of our urban forest.
City of Buffalo Parks Map
PDF Version of the Map
Erie County Parks, Recreation and Forestry
The Erie County Department of Parks, Recreation and Forestry provides residents opportunities to enjoy recreational pursuits in natural settings on a year round basis and protects regionally important areas of scenic, environmental and cultural heritage significance.
Locations Link
New York State Department of Environmental Conservation - Outdoor Activities
Contains information for accessible recreation, hunting, fishing, sportsman education classes, boating, camping & hiking, winter sports, and much more.
New York State Parks, Recreation and Historic Preservation
From the shores of Long Island to the mighty Niagara Falls, New York's 180 state parks offer countless opportunities to explore your natural environment, escape from the grind of the everyday and experience exciting new adventures. Beaches, boat launches, hiking trails, campsites, and golf courses all await you!

New York State Hiking Trails
Thousands of miles of trails connect communities, parks, natural resources and the heritage of New York State. Trails serve as recreational resources, alternative transportation routes and contribute to the economy of the state. From rugged foot paths in the Adirondacks to paved greenway trails along the Manhattan waterfront, our trails are as diverse as the communities which host them.

Listing of Trails in NY State Parks
This site features maps of all of the NY State Parks.

Trails Throughout NY State

Trail Tips
National Park Foundation
Organization that supports, maintains and protects National Parks.
National Park Service
Search by name, location, topic, and activity to find a park to visit.
Travel Guide to the National Parks
Recreation.gov
Search various recreational activities and plan a trip to the wilderness.
Backpacker Magazine
Contains gear checklists, survival blogs, featured articles, map & permit centers, menu maker, and outdoor advice.
Community and Local Links
Beaver Meadow Nature Preserve
324-acre nature preserve with a boardwalk trail, wooded uplands, meadows, a hawk watch, an arboretum, and eight miles of marked and groomed trails.
Birds on the Niagara Frontier
BirdsontheNiagaraFrontier.org is the brainchild of Gerry Rising and Michael Noonan.  It is designed to promote interest in birding and wildlife conservation in Western New York and Southern Ontario. It also provides a video tour of popular birding sites throughout the Buffalo-Niagara region.
Buffalo Audubon Society
Buffalo Audubon Society's purpose is to develop an appreciation of the natural world by providing regional ecological education opportunities and a calendar of events. Buffalo Audubon owns and protects approximately 1,000 acres in seven preserves across Western New York, each offering something unique to wildlife and people. While Beaver Meadow remains our only preserve with a staffed nature center, we welcome the public to explore North Tonawanda's wetland boardwalks and hiking trails, or take a quick detour from Beaver Meadow to nearby Ghost Pond and Rose Acres, where you can search for salamanders, native wildflowers and ferns, and of course, birds!
Buffalo Kids Out and About
Search for various outdoor activities (such as cross-country skiiing) for famliy friendly locations and events around WNY.
Buffalo Olmsted Parks Conservancy
The Buffalo Olmsted Parks Conservancy is the first nonprofit organization in the nation to manage and operate an entire historic urban park system that consists of 850 acres of beautifully designed parks, parkways and circles. Our mission is to promote, preserve, restore, enhance, and maintain the Frederick Law Olmsted-designed parks and parkways in the Greater Buffalo area for current and future generations.
Buffalo Ornithological Society
For those interested in birding in Western New York and Southern Ontario. Meetings and trips are open to the public unless otherwise noted.
Buffalo Waterfront
Lists events and activities at Canalside and the Outer Harbor.
Erie & Niagara County Fishing Guide
Includes marina/launch sites, regulations & fees, shore fishing sites, regional fishing clubs, charter captains, fish descriptions, and more.
Hot Spot Fishing Map
A map of hot spots for various fish found in Western New York. 
GoBike Buffalo
If you've ever thought about riding a bike for fun, exercise or even getting to work each day, GoBike Buffalo has you covered. Learn all about bikes, bike safety and how to get around while making friends in the process.
Niagara Falls National Heritage Area
Visit natural landscapes and state parks a short drive from Buffalo.
Tifft Nature Preserve
A 264-acre nature refuge dedicated to conservation and environmental education in South Buffalo. Five miles of trails, guided walks, snowshoe rental. Open all year.
Visit Buffalo Niagara
Information about state parks for hiking & camping in addition to other recreational activities.
Library Materials
Backpacking
Bird Watching
Fishing
Hiking
Outdoor Recreation
Parks
National Parks
 
subject guides terms