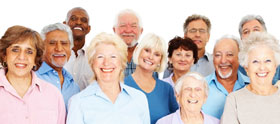 These links are not a substitute for medical advice. Please consult your personal healthcare provider.
Databases
MedlinePlus
This is a comprehensive medical site from the National Library of Medicine. Besides information on diseases and medications, the site provides links to directories of hospitals, physicians and organizations, and to other medical sites from the federal government.  
National Institute on Aging
A to Z Health topics, caregiving, cognitive health, doctor-patient communication, exercise and physical activity, healthy eating, clinical trials, publications in an easy to use format.
Reference Solutions (formerly Reference USA): Health Care
Includes 855,000 physician and dentist listings throughout the U.S.
Websites
AARP
The largest non-profit, non-partisan membership organization for people age 50 and over in the United States offering a wide range of special products and services to members. There are sections for Work & Jobs, Health, Entertainment, Travel, Online Games, and much more.
ArtsAccess Pass
The Arts Access Pass Program is designed to give eligible members increased opportunities to participate in the arts in their communities. In order to be eligible for the program, you must be currently be on Public Assistance (SNAP, Medicaid, TANF) and present an active Benefit card when signing up for the Arts Access pass. 
Assisted Living.org
Written by a group of medical professionals, AboutAssistedLiving.org is meant to serve as a resource for anyone looking for information on placing themselves or a loved-one into an assisted living or elder care facility.
Eldercare Locator (U.S. Department of Health & Human Services)
A public service of the U.S. Administration on Aging, this site provides links to local community services and also provides national links such a the Aging & Disability Resource Center and the National Clearinghouse Long-Term Care Information, and the Administration on Aging.
Home Safety Self Assessment Tool
The Occupational Therapy Geriatric Group at the University at Buffalo created the Home Safety Self Assessment Tool, as a part of combined effort with the Community Health Foundation of Western and Central New York to disseminate information regarding how to prevent falls in Erie County, NY.
Next Avenue
Next Avenue is public media's first and only national journalism service for America's booming older population. Our daily content delivers vital ideas, context and perspectives on issues that matter most as we age.
Retirement Planner
Plan for retirement through the Office of Social Security Website and learn about Retirement Benefits.
Smart Seniors: Resources for Older Adults- NYS Attorney General's Office
It is our mission to make sure all New Yorkers have the information they need to safeguard themselves and their assets, the tools to take control and plan for their well-being and the directions for where to go for help or to report a crime.
Community and Local Links 
Erie County & WNY
Alzheimer's Association - WNY Chapter 
The leading voluntary health organization in Alzheimer care, support, and research. Includes information on Western New York care services to families and professionals on referral, support groups, care, education, and safety. Also provides a link to a 24/7 helpline.
Caregiver & Support Groups
*Times and locations change frequently; please call before attending any group.
Center for Elderlaw & Justice
Free civil legal services, primarily to individuals age sixty and over as defined by the federal Older Americans Act, but also to younger disabled and low-income individuals.
Erie County Department of Senior Services
A comprehensive site for services to older persons in Erie County. Programs focus on planning, advocacy and coordination activities. Helpful links to housing, finance community health, caregiving, a downloadable "60 Plus" newsletter, and a Guide to Services 
Erie County NY Connects
Finding your way around the Long-term Care system can be challenging. Our goal is to help you identify the best available care options - whether that means staying at home with the right mix of services or finding a place where your needs, or those of your loved one, can be met.
Feed More WNY
Provides free home-delivered meals, nutrition education and assistance applying for SNAP benefits in Western New York for those who are eligible.
Horizon Health Services
Not-for-profit corporation that provides an array of comprehensive services to assist individuals with mental health and/or substance abuse issues.
Hospice Buffalo
Hospice serves persons of any age with any life-limiting illness. Admission to hospice is based on a physician's clinical judgment that hospice care would be appropriate for a patient, given the expected course of an illness. 
Neighborhood Legal Services
A not-for-profit agency with three offices throughout Western New York providing free legal services to persons with low-income and persons with disabilities.
NFTA-Metro Paratransit Service
Transportation option for those who cannot use a fixed-route service for those who qualify, following an application and review process.
Niagara Frontier Radio Reading Service
A private, not-for-profit agency that operates a special "radio station" for area people who are unable to read printed materials. Daily, radio readers broadcast readings of newspapers, magazines, and books to people who are blind or print-handicapped. These persons are provided with special "reading radios." This web site includes a description of the service and contact information.
Retired Senior Volunteer Program of Erie County (RSVP)
For all residents of Erie County age 55 or older. Help others by sharing your experience, abilities and skills. Join the team of senior volunteers making a difference in Erie County.
Senior Centers
Addresses and telephone numbers of senior centers in Buffalo & Western New York.
Silver Pride Project
The Pride Center strives to create a safe space where those 50 years and "better" will have access to important resources and referrals regarding health care, social services, and community activities.
Stay Fit Dining Erie County
serving hot, nutritious, delicious noonday meals, Monday through Friday. You or your spouse must be 60 years of age or older and the suggested confidential contribution is $3.00, but no one will ever be denied a meal if they are unable to contribute. Advance reservations are required so please call the site nearest you to reserve your place.
Supportive Services Corporation
Private non-profit organization that assists job seekers 55 years of age and over, as well as, employers seeking qualified job candidates throughout all of Erie County. Services include resume preparation, developing interview skills, training opportunities, and job placement assistance.
Western New York 2-1-1
Free and confidential referrals to Western New York health and human service providers.
New York State
New York State Nursing Home Profile
This site is used to find information about nursing homes in New York State and the quality of care they provide. Searchable by region or county with side-by-side comparison feature
New York State Office for the Aging (NYSOFA)
A Comprehensive Senior Citizen's Resource Guide with information on health care, health insurance, nutrition, fitness, housing, energy, legal assistance, taxes, crime, employment, recreation, volunteering, transportation, and veterans information. Also contains links to county area agencies.
New York State Talking Book & Braille Library (TBBL)
The TBBL lends Braille and recorded books and magazines, and the necessary equipment, to residents of the 55 upstate counties of New York State who are unable to read printed materials due to a physical disability. TBBL is part of the federal program coordinated by the National Library Service for the Blind and Handicapped (NLS). Site includes eligibility requirements, downloadable application form and searchable catalog.
New York StateWide Action Council, inc. 
A grassroots membership non-profit organization made up of individual senior citizens and senior citizen clubs from all parts of New York State. Helps senior citizens  advocate for their interests and needs regarding services, programs and policies including Medicare.
Library Materials
Click on the following topics for a quick search in the Library's Catalog.