Homeschooling/Virtual Learning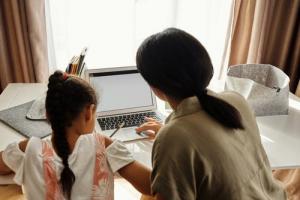 Databases
Britannica Escolar
Britannica content in Spanish for native Spanish speakers, bilingual students, and students learning Spanish. Virtual Tour
Britannica School
Britannica School is the go-to site for learning more about any subject—for all grades Pre-K-12 and all reading abilities—offering thousands of up-to-date, curated, and curriculum-relevant articles, images, videos, audio clips, primary sources, maps, research tools, recommended Web sites, and three separate databases—Elementary, Middle, or High. Virtual Tour
Gale in Context: Elementary
Gale In Context: Elementary (formerly Kids InfoBits), introduces elementary school students to database searching with resources featuring age-appropriate, curriculum-related content. Virtual Tour
Gale in Context: Middle School
Resources for students in grades 6 to 8.  Offers magazines, newspapers, primary sources, over 12,000 videos and more on a variety of topics.  Supports national and state curriculum standards in language arts, social studies and science. Virtual Tour
Home School User Guide (Buffalo & Erie County Public Library Resources)
A compilation of library materials and educational websites arranged by subject area.
Libby by Overdrive - Read With Me! Collection
Many of the read-along ebooks in the collection will highlight words, sentences, or paragraphs as the narrator reads them, so you can follow along. Pages automatically turn when the narrator reaches the end of the page. If you'd like the narrator to repeat any word, sentence, or paragraph, click or tap the word you'd like to hear again or turn back a page to restart it.
Curriculum and Standards
EngageNY Common Core Curriculum
NYSED has provided curricular modules and units in P-12 ELA and math that can be adopted or adapted for local purposes. Full years of curricular materials are currently available for grades Prekindergarten through 12th grade in Mathematics and English Language Arts (ELA).
New York State Education Department (Curriculum and Instruction)
The New York State Education Department is responsible for setting student learning expectations (standards) for what all students should know and be able to do as a result of skilled instruction. Each local school district develops curricula based on these established standards.
New York State Department of Education (Home Instruction)
Regulations, laws and procedures for families that wish to provide home instruction to children in New York State.  Includes additional resources and links to educational sites.
Educational Websites
Annenberg Classroom
Videos, games, and lesson plans for teaching about the United States Constitution for grades 6–12
Code.org
Learn computer science with various courses and activities for grades K-12.
Common Sense Media
Age-based media reviews for families
Duolingo
Language-learning website and app personalized learning and bite-sized lessons.
Education World
Access lesson plans, printables, worksheets and thousands of other classroom-ready resources by grade and subject.  Content updated daily.
Go Noodle
Activities, songs, mindfulness, and fun for the whole family.
iCivics
Civics lessons and virtual games to engage and inform students about America's government and history, best for grades 4 - 12.
Illuminations
Virtual games, interactives and lessons from the National Council of Teachers of Mathematics.
Khan Academy Kids
Free, fun educational program for children ages two to seven. More courses available on the main Khan Academy website.
KidsHealth
Doctor reviewed information about the human body and making healthy choices for parents, kids and educators.
KidsRead2Kids
Designed by families with experience in ADHD and dyslexia, this site provides decodable chapter books and abridged classics read aloud by kids for grades K – 12.
Learning for Justice
Educators may utilize various materials to supplement the curriculum, to inform their practices, and to create inclusive school communities where children and youth are respected, valued and welcome participants.
Libby by Overdrive
Free with your Buffalo and Erie County library card number. You will have access to thousands of ebooks and audiobooks for the whole family. The Libby app works on your phone or tablet to give you access to books on the go.
National Museum of African American History and Culture
Explore, learn and engage with the many digital resources available at the only national museum devoted exclusively to the documentation of African American life, history, and culture.
NASA STEM Engagement
Lesson plans, videos and more from the National Aeronautics and Space Administration for all grade levels.
New York State Library
A selection of education websites featuring subject areas, school information and more.
New York State Museum
For educators, caregivers, and students looking for engaging and educational activities to do right from home. This portal brings together many of the museum's resources, including links to our virtual "Fieldtrips," digital collections, online resources, and fun activities for kids based on the museum's research and collections. 
New York Times Learning Network
Features daily current events lessons, weekly news & geography quizzes, lesson plans and more.
PBS Learning Media
WNED PBS and PBS have curated FREE, standards-aligned videos, interactives, lesson plans, and more for grades PreK through High School.
Quarto Classroom
Free video library on YouTube of Quarto's creators using their books as teaching tools in educational spaces. Each video focuses on subject matters ranging from Engineering to Social Sciences to Arts & Crafts. Many videos are accompanied by additional printable materials so students can follow along, participate in the lesson plans, and take the information they learn from the video into the world. 
Reading Rockets
Activities, book lists, reading guides and more for grades PreK – 5.
ReadWriteThink
A reading and language arts resource for educators and parents, which includes lesson plans and printables for Grades K–12.
Scratch
Create stories, games and animations, designed by educators at MIT full of interactive projects.
Smithsonian Kids
Learning games and videos from the Smithsonian Institution, the world's largest museum, education, and research complex.
Storyline Online
Children's literacy website that streams videos featuring celebrated actors reading children's books alongside creatively produced illustrations.
WORD Force
Offers opportunities for children to learn and practice skills for early reading. As the commander of the WORD Force, a motley group of superheroes, children will develop strong foundational reading skills via reading games designed by literacy experts.
Virtual Tours
Google Arts & Culture Collections
National Marine Sanctuaries Virtual Dives
National Museum of Natural History
Niagara Falls Underground Railroad Heritage Center
Seneca-Iroquois National Museum
Community and Local Links
Buffalo Public Schools (Grade Level Expectations)
New York State learning standards outline what a student should know and be able to do by the end of the grade level or band. There are also additional skills that a well-rounded student should possess. Listed are examples of Buffalo Public Schools' academic expectations for students grades Pre K-12 (available in Arabic, Burmese, English, Karen, Nepali, Somali & Spanish).

Buffalo Public Schools (Office of Homeschooling)
The opportunity to home school is an option available to parents of K-12 students who feel that educating their child outside of the traditional school setting is the preferred method of instruction.
Child Care Resource Network
Resources, information, and services to all families with children in Erie County. 
Erie County School District and Charter School Data  
School district information and assessment data for district, school and student performance in Erie County.
Every Person Influences Children (EPIC)
Strengthening families and building community to raise children who make a positive impact in the world.
Explore & More - The Ralph C. Wilson, Jr. Children's Museum
A children's museum that celebrates the power of child-led play, with four floors of fun to explore. The 43,000 sq. ft. museum sits at the crossroads between replica canals and bridges that have become year-round community destinations. 

Family Help Center 
The Center offers a comfortable and nurturing environment for group interaction, child care programming, parent training sessions, family socials and a variety of other functions.
Kids Out and About (Groups & Programs)
Organizations that provide resources, opportunities, activities, programs, or classes for home schooled students. 

Parent Network of WNY 
Parent Network of WNY provides 1-on-1 Support and education through resources, workshops and support groups to assist families of individuals with disabilities to understand their disability and navigate the support service system.
Library Materials
Click on the following topics for a quick search in the Library's Catalog
Study Guides (2020-2023)
Browse this collection of educational and entertaining ebooks and audiobooks, donated by OverDrive to support young readers in our community. There's no wait to check out these titles and more! https://buffalo.overdrive.com/collection/1091869 
subject guides terms