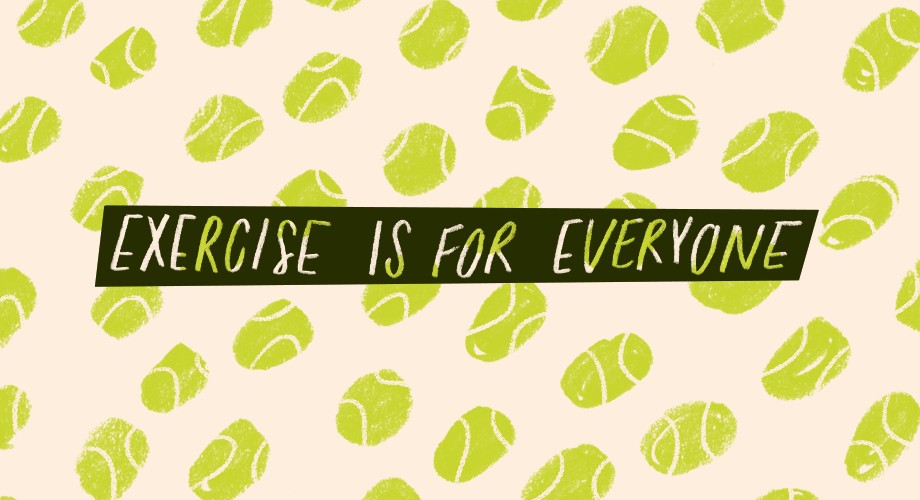 Consult your healthcare provider before beginning any exercise or fitness program. 
Databases
Gale General OneFile
A one-stop source for news and periodical articles on a wide range of topics from magazines such as Environmental Nutrition, Flex, Food and Drink, Good Health, Redbook, Women's Health, and Women's Health Weekly. Millions of full-text articles, many with images. Updated daily. Virtual Tour
Gale OneFile: Health and Medicine
Find full-text of nursing and allied health journals.  Virtual Tour
Medline Plus
Find articles from medical journals and magazines.  Featured topics include sports fitness and physical fitness exercises.  Directories of health organizations, a medical encyclopedia, and drugs & supplements can also be searched. This link is not a substitute for medical advice. Please consult your personal healthcare provider.  
Websites
Adapt the Fun for Everyone! Physical Activity and People with Disabilities
Resources and guidance for developing inclusive physical activity programs. Compiled by the New York State Department of Health.
American Council on Exercise
Whether you're a beginning exerciser who needs help getting started or someone who wants to add some spice to your fitness routine, our ACE Exercise Library offers a variety of movements to choose from. Browse through total-body exercises or movements that target more specific areas of the body. Each comes with a detailed description and photos to help ensure proper form.
Fit for Life -Disability and Health
Physical activity is good for your health. Don't let physical limitations get in your way. Find options and suggestions for programs and equipment to help find the activity that's right for you.
Fitness Basics: Do it for you American Heart Association
Everything you need to get started on the road to an active lifestyle including what equipment you might need, what time of day to exercise and more.
Mayo Clinic – Fitness
Covers fitness basics with multimedia, expert answers, and other resources.  You can also search the site for various articles about different exercise techniques.
Move Your Way
Move Your Way tools, videos, and fact sheets  have tips that make it easier to get a little more active. And small changes can add up to big health benefits!
National Institute on Aging Exercise & Physical Activity
Learn the latest on how exercise and physical activity can help you stay healthy as you age. Find tips on how to fit exercise into your daily life safely and get motivated to get moving!
Community and Local Links

 
Buffalo Speed Skating Club
Buffalo Speedskating membership is open to skaters and supporters of all ages and abilities, from those just learning to skate to experienced speedskaters. Our regular season runs from September through March at two Buffalo ice rinks, Cazenovia and Riverside. 
Daemen CAUSE
The Center for Allied and Unified Sport and Exercise (CAUSE) at Daemen College provides opportunities for people with disabilities to develop physical fitness, demonstrate courage and experience the camaraderie and sportsmanship that comes with athletics participation. CAUSE holds FREE Sport Activity Sessions on Sunday afternoons from 2 p.m. - 4 p.m. for individuals with disabilities between the ages of 6-18. For more information email cause@daemen.edu. 
Foothills Trail Club
The Foothills Trail Club was founded in 1962 by a few hikers and outdoors enthusiasts who wanted to build a trail from Allegany State Park to Lake Ontario. The club also belongs to the American Hiking Society's alliance of hiking organizations. CNY Hiking is an affiliated web site that lists many trails and hiking clubs.
Jewish Community Center of Greater Buffalo
Located in Getzville, the JCCHC is open to everyone, regardless of race, religion, age and ability. Swimming pools, gymnasium, exercise facilities and many programs are available to members.
Niagara Frontier Bicycle Club
The club emphasizes safe and courteous riding in an extremely social environment. We ride at an athletic pace, and we welcome new riders! The NFBC ride schedule runs March through October and offers over 400 rides throughout the cycling season, with daily rides spanning the 8 counties of Western New York.
Tonawanda Aquatic and Fitness Center
The Town of Tonawanda Aquatic and Fitness Center brings new opportunities for you and your family. Learn to swim, take up aquatic fitness, join an aerobics class, improve your muscle tone and much more. It offers something for everyone through its various programs and its 50-meter main pool, kiddie pool, whirlpool, sauna, steam room, fitness room and aerobics room.
YMCA Buffalo Niagara
An organization that features swimming lessons, teen leadership development, summer camps, and recreation programs for all ages.  YMCA Buffalo Niagara has five full facility branches, an overnight camp and multiple day camps:  
Library Materials
Click on the following topics for a quick search in the Library's Catalog.
Aerobics
Exercise
Physical Fitness
Pilates
Running
Stretching
Tai Chi
Weight Training
Yoga