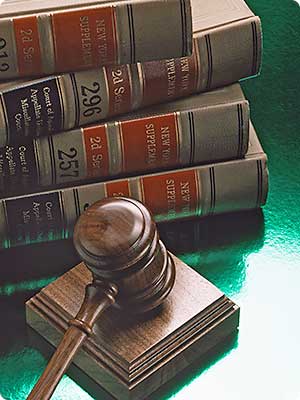 Databases 
Findlaw
Web directory of laws, cases and codes, law schools, legal directories, lawyers and law firms, and legal organizations.
Hein Online
Provides access to law journal articles, the Federal Register, the Code of Federal Regulations, U.S. Supreme Court cases and the U.S. Code. For use at any library. Virtual Tour
Gale In Context: Opposing Viewpoints
Opposing Viewpoints in Context contains a range of perspectives on many important issues, with 19,000+ pro/con viewpoints,13,000+ topic overviews, and 1,000+ court case overviews. Students of all levels will benefit from a variety of resource types: reference, news, primary sources, multimedia and more. Virtual Tour 
Websites 
The information displayed below is not meant to take the place of professional legal advice.
New York State
Attorney Directories
Attorney Search (NYS Unified Court System)
New York State's official database of registered attorneys. You must know an attorney's last name, at mininium, to search this resource. Learn when an attorney was admitted to the NYS Bar, registration status, and law school alma mater.
Law Firms in the Martindale Hubble Directory
Browse law firms and individual lawyers by area of practice and geographic location. Law firms pay for inclusion so if a firm isn't listed, you may have to look elsewhere.
Lawyers.com 
This site is designed to help individuals and small businesses. It provides access to profiles of 1 million lawyers and firms. Find tips on selecting an attorney and read articles about various legal issues. 
New York State Courts
New York State Unified Court System
The gateway to information about representing yourself, determining if an attorney is licensed to practice in New York State, and courts. It also has information for prospective jurors and those looking for work in the court system.
New York State Laws
LawHelpNY.org
LawHelpNY.org is a website designed to help low-income New Yorkers with their legal problems. It can help you contact legal aid offices and other social agencies for assistance. It also serves to help you understand your legal rights and navigate the court system. LawHelpNY has over 4,000 Know Your Rights and self-help resources covering 16 areas of law. It connects to over 600 legal aid programs offering free legal services in New York State. This site is also in Spanish and  connect to legal rights resources in 30 languages.
Laws of New York
Free access to the text of New York State laws. Existing laws are subject to change through legislation. The latest information about a particular law may not be available through this site. Use this as a starting point for your research.
NY CourtHelp
Free and easy computer programs you can use yourself to make court forms or learn information about your legal problem.
NYS Legislature
Find the text of bills and laws and floor votes from 1995 to the present.
New York State Regulations
New York Code, Rules, and Regulations (NYCRR)
Provides free access to an unannotated web version of the New York Code, Rules and Regulations (NYCRR). 
Erie County
Courts-8th Judicial District
Contains judicial contact information, weekly courtroom schedules, links to specialty courts, and information about e-filing. 
Erie County Legislature 
The Legislature is responsible for enacting, amending, repealing or rescinding local laws, as well as making appropriations, levying taxes, and incurring indebtedness.
Erie County Local Laws 
Text of laws passed by the Legislature from 1951 to the present.
Municipal Codes
Select online codes for municipalities in Erie County as provided by the Supreme Court Law Library, 8th Judicial District.
City of Buffalo
Common Council
Learn about the structure of the City's Common Council.
Common Council Proceedings
Contains the minutes of the Council and pertinent documents. Archives start at May 2006. Recent proceedings may be a few weeks behind.
Federal
Bills and Laws
Congress.gov
This new site (as of 2014) contains legislation from the 103th Congress (1993) to the present, member profiles from the 93rd Congress (1973) to the present, and member profiles from the 71st through the 92nd Congresses (1929 to 1972) for those who were still serving in 1973. THOMAS was this site's predecessor. By the close of fiscal year 2015, THOMAS will be retired. Information from THOMAS is still being transferred to Congress.gov. Until it is retired, you can access THOMAS by clicking here. 
Federal Courts 
U.S. Courts: the Federal Judiciary
Links to all federal courts. FAQ section explains typical concerns--the difference between the federal and state courts systems, how to file a federal court case, how to file for bankruptcy, etc.
Legal Assistance
Eight Judicial District (NYS) Court Help Center, 92 Franklin St. Room 105 Buffalo, NY 14202. (716) 845-1816
The Center provides two staff attorneys and a court clerk to give free legal and procedural information. They are neutral parties who cannot give you legal advice. Click here to see their brochure.
Family Justice Center of Erie County, Inc. 237 Main St. 14th Floor Buffalo, NY 14203. Client Services: (716) 558-SAFE (7234)
Free and confidential. Services for victims of domestic violence and intimate partner violence include advocacy, civil legal assistance, safety planning, counseling, shelter referrals, medical examinations, access to criminal and civil courts. No appointment necessary.
Supreme Court Law Library (8th Judicial District) 77 West Eagle St. Buffalo, NY 14202. (716) 854-9400
Open to the public for reference assistance. Staff cannot give legal advice. This facility provides public access to the following databases: Lexis, LoisLaw, and HeinOnline. Their reference collection consists of law books, law reviews and newspapers.
Free Legal Research Materials
The Law Student Guide to Free Legal Research on the Internet 
Although intended for law students, the writing is plain and simple. This site links to many freely available resources.  
Womens Law 
This site was provides state specific legal information and resources for survivors of domestic violence. It also contains information for those seeking separations, divorce, and child custody. 
Library Materials 
Click on the following topics for a quick search in the Library's Catalog.
Bankruptcy
Child Custody
Divorce (New York State) 
Elder Law
Estate Planning and Wills
Landlord and Tenant Rights