All 37 Buffalo & Erie County Public Libraries
(including the 4 Amherst Libraries)
remain CLOSED.
Programs
Due to the COVID-19 pandemic all library programming is taking place online. 
Visit our Calendar page  or  Facebook page
____________________________________________________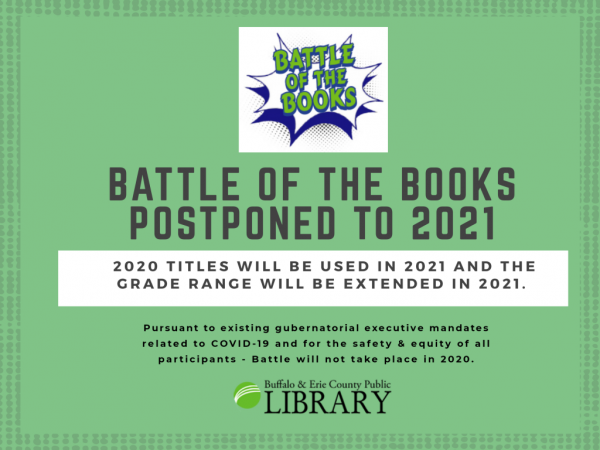 VIRTUAL PROGRAMS HELD THIS WEEK
5/26 at 10:30 am - Virtual Story Time with Miss Beth
You might need some cookies and milk to go with today's story!
5/27 at 1pm - Virtual Program - Kids DIY Magic Tricks 1 with Punkin
Join Punkin the Clown and learn some magic tricks you can do yourself!
5/28 at 2pm - Virtual Baking with Miss Carol: Peanut Butter Bread
Join Miss Carol and her kids as they make Depression Era Peanut Butter Bread.  It takes just 6 ingredients and no yeast! ​
All the above events are on our Facebook page:
https://www.facebook.com/AmherstPublicLibrary/
---
NEW SERIES: CHECKERS TV
Checkers TV is a weekly educational entertainment program featuring Checkers the Inventor, his robot sidekick, Snoozer, and a variety of special visitors including medical professionals, community leaders, police and fire men and women, and other special guests in highly-produced 30 minute episodes. Each weekly episode also includes segments featuring storytelling, author interviews, art projects, science experiments, interactive games, contests, comedy, magic, and exciting short films that will have children on the edge of their seats

​
---
PREVIOUS VIRTUAL PROGRAMS FOR KIDS
VIRTUAL BAKING with MISS CAROL & HER KIDS -- CRAZY CRUST PIE -- MAY 21​
Do you love pie but can't make a crust?  Are you a busy parent who would love to make a homemade pie, but crusts take too long.  Join Miss Carol and her kids for a crazy crust pie.  The entire pie can be put together in about 5 minutes.  After it bakes for about 40 minutes - you will have a homemade pie in a little under an hour!
https://www.facebook.com/AmherstPublicLibrary/videos/952491005182322/
---
VIRTUAL KIDS: ASIAN AMERICAN & PACIFIC ISLANDER MONTH CELEBRATION -- MAY 21
In partnership with PBS Books - Facebook Live Event - In celebration of Asian American and Pacific Islander Heritage Month, PBS Books presents a live discussion with author Minh Lê and illustrator Dan Santat about their book Drawn Together in an interactive event.
Drawn Together is the first collaboration between Minh Lê [LAY] and Dan Santat, and it received six starred reviews and won the APALA (Asian/Pacific American Librarians Association) Asian/Pacific American Award for Literature in 2019. It was also on over 24 best-books-of-the-year lists in outlets like The Wall Street Journal and NPR. It's been called everything from a "must have" to "phantasmagoric" by its reviewers and readers.​
https://www.facebook.com/AmherstPublicLibrary/videos/
652900931926033​
WE WELL-BEING PLAYBOOK & PANEL DISCUSSION - IN CONJUNCTION with PBS BOOKS -- MAY 20
In celebration of Mental Health Awareness Month, PBS Books presents an evening with Leysa Cerswell Kielburger about the WE Well-Being Playbook featuring a panel discussion and interactive event. This Playbook is a hands-on guide filled with everyday tools and actions to nurture your own mental well-being and the well-being of others.​
https://www.facebook.com/AmherstPublicLibrary/videos/622037965064355/
---
VIRTUAL BAKING with MISS CAROL & HER KIDS - CRAZY CHOCOLATE CAKE -- MAY 7
Join Miss Carol and her kids as they make Crazy Chocolate Cake. Miss Carol will share her family's decades old recipe for their version of "Depression Cake."
---
VIRTUAL STAR WARS DAY ACTIVITIES with MISS CAROL -- MAY 4
---
---
VIRTUAL LEGO CHALLENGE - SAY THANK YOU TO THE HELPERS:  APRIL 27 to MAY 3
Build a LEGO creation thanking the helpers in our community (doctors, nurses, first responders, grocery workers, restaurants, teachers, police, and construction workers.)
---
VIRTUAL STEM PROJECT WITH MISS ANGELA -- May 1 at 11am
Miss Angela shows you how to make a tornado in a bottle. 
https://www.facebook.com/AmherstPublicLibrary/videos/160486208703904/
---
VIRTUAL GOOFY TRICKS from PUNKIN the CLOWN -- APRIL 25
Join Punkin as she does some goofy tricks to brighten up your day!   https://youtu.be/IJ-UobJTRbg
---
ARBOR DAY CELEBRATION: VIRTUAL TREE TOUR -- APRIL 24
The Buffalo Erie County Botanical Gardens held a remote Tree Tour with their Director of Education, Kristy! This is a great way to #ConnectWithNature and learn from the comfort of your home. Here is the link:
---
NATIONAL DNA DAY with PBS BOOKS -- APRIL 24
In Celebration of National DNA Day this week, Amherst Public Libraries is partnering with PBS Books to bring you an interactive event, now recorded. This event is geared towards students in grades 4-9. It features animated shorts, a conversation with experts, DNA origami, activities from the Smithsonian and more!
https://www.facebook.com/watch/live/?v=703499827137471&ref=watch_permal…
---
VIRTUAL CRAFT with MISS CAROL (and KIDS): MAKE A RECYCLED CARDBOARD TUBE BIRD FEEDER -- APRIL 23
Join Miss Carol and her kids as they celebrate Earth Day this week by making a bird feeder using a cardboard tube, a bamboo skewer (or any stick like that), peanut butter, bird seed, and string.  
https://youtu.be/16omUikcN4o
VIRTUAL NATIONAL LIBRARY WEEK BOOK COVER RE-CREATION CHALLENGE -- APRIL 20 through APRIL 25
Re-Create a book cover, similar to that challenge you may have seen online of people recreating works of art at home. Take a photo or video of you recreating your favorite book cover using whatever art medium you prefer - pencils, marker, paint, clay, scrapbook supplies, other family members, etc.  Share the picture or video on our Facebook page (https://www.facebook.com/AmherstPublicLibrary/) or email AUD@buffalolib.org.
---
VIRTUAL LEGO CHALLENGE:  SIMPLE MACHINE -- TUESDAY, APRIL 14 through SUNDAY, APRIL 19:
Build a LEGO pulley system that can lift a load of pennies. Build a LEGO basket to hold the pennies and use some wheels, with the tires removed, as pulleys. Attach a string through the pulley and to the basket.
Post your pictures or videos of your creations on our Facebook Page https://www.facebook.com/AmherstPublicLibrary/​ or e-mail them to aud@buffalolib.org
---
---
VIRTUAL PAWS FOR LOVE READ-ALOUD WITH LILY -- WEDNESDAY, APRIL 15th at 11am:
Read aloud of The Most Thankful Thing by Lisa McCourt pictures by Cyd Moore with permission of Scholastic Inc. Featuring Lily, the Paws For Love Therapy Dog and her video bombing cat friend Stormy.
---
VIRTUAL TURTLE BREAD BAKING DEMONSTRATION WITH MISS CAROL --THURSDAY, APRIL 16th at 2pm:
Miss Carol and her children will be making bread in the shape of a turtle.  The recipe is versatile.  Once you get the turtle shape mastered, you can make bears, hedgehogs, bunnies, whatever tickles your imagination.  You will need flour, quick acting dry yeast, sugar, salt, milk, water, margarine or butter, eggs, and raisins or craisins (just 2 - for the eyes).  
---
MARDI GRAS CRAFT BEADS WITH PUNKIN THE CLOWN -- FRIDAY, APRIL 17th at 1pm
Grab any extra Mardi Gras beads you may have lying around!  Punkin the Clown is here to show you how to make a dog and a star out of Mardi Gras beads.  
https://youtu.be/Q1xv2C1m11w
---
VIRTUAL BAKING: PEANUT BUTTER "KISS" COOKIES with MISS ANGELA -- SATURDAY, APRIL 18th at 2pm -
Here is the recipe she used:
Peanut Butter "Kiss" Cookies
1 Cup Peanut Butter
1 Cup Sugar
1 Egg
1 tsp Vanilla
Milk Chocolate Kisses
(Recipe yields around 18-20 cookies)
Preheat oven to 350 degrees.
Cream peanut butter and sugar until light and fluffy. Beat in egg and vanilla.
Roll into ¼ inch balls; place about 2 in. apart on an ungreased baking sheet.
Bake 10-12 minutes. Tops of the cookies will be slightly cracked. Upon removing from the oven, immediately press "Kiss" into the center of the cookie. Let cookies cool 5 minutes.
---
ONLINE STEM CRAFT ON YOUTUBE WITH MISS CAROL
Join Miss Carol and her children as they make Moon Dough.  Moon Dough is like playdough and slime combined.  It is not sticky, it smells good, and is fun to play with (it can be very therapeutic for adults also)​.  All you need is cornstarch and hair conditioner.  Food coloring is optional.  
The session is recorded, so it will be available for viewing at your convenience.It was posted originally on Facebook, following this link to see it now:
https://youtu.be/Qyj2SDzIojA
---
PREVIOUS VIRTUAL PROGRAMS FOR ADULTS AND FAMILY
"OH SUSANNA" with GENE GOLEBIEWSKI
---
VIRTUAL HOLISTIC LECTURE -- Librarian Rich Peters guest-lectured for Holistic Alliance of Western New York on Library Resources to use during (and after)the pandemic.
Click here for the Zoom meeting.
VIRTUAL HOLISTIC LECTURE SERIES:

Climate Change and Food Security in 2020 and Beyond
Tue, Apr 21, 2020 7:00 PM - 9:00 PM (EDT)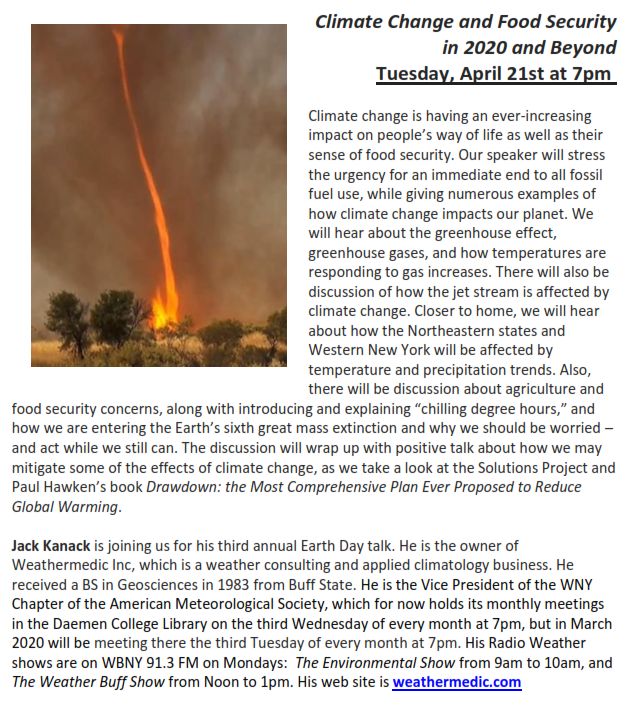 ---
ONLINE EVENT -- TUESDAY, APRIL 14 AT 7PM
John Martz is a multi-instrumentalist from Eggertsville, NY who specializes in fingerstyle guitar, slide guitar, and banjo. This performance will feature a variety of American folk styles, including blues, bluegrass, country, and some Hawaiian slack key guitar.
Join him online Tuesday, April 14th at 7 PM for a live-stream, social-distancing performance of the concert that was to be held at the Williamsville branch library at that time. He will be broadcasting live from my studio/office, and I hope to be able to chat with the audience in real time.
Here is the link to the Youtube playback for the concert:
https://youtu.be/kINAW22SUUc
And visit his site: johnmartz.net
---
___________________________________________________________________________________________________________________________
EVERYTHING BELOW IS STILL ALL TENTATIVE
AS WE FACE THE UNKNOWNS OF THE PANDEMIC
Programs
FOR CHILDREN
FOR FAMILIES
COMPUTER CLASSES  
BOOK CLUB
BOOK SALES
Ongoing book sale in front hall of library
2020 flyer for all 4 Amherst branch book sales.
---
CONGRATULATIONS TO THE BASKET WINNERS.
YOU WILL BE CONTACTED AFTER THE LIBRARIES REOPEN
AS TO WHEN YOU CAN PICK IT UP.