Interlibrary Loan is a free service which asks other library systems to share their books, articles, movies or microfilm for your use. In most cases the items you need/want will be lent to you for free or for a small fee. Some restrictions apply.
---
How do I sign up for this service?
To be eligible for this service you must have a B&ECPL library card in good standing. To create a new Interlibrary Loan account online, go to the Interlibrary Loan page and select "Account Set-up". You must have an email address to apply for your account online. If you do not have an email address, you may call (716) 858-7126. In addition, staff at any B&ECPL location can help you set up an account.
---
How many requests can I make at one time?
There is a limit of 10 requests.
---
Is there a charge for this service?
There is no charge for this service however, some libraries have lending and copying fees which B&ECPL must pass along to you. We always try free lenders first.
You have the following options when making your request:
A fee per page for printing articles that are held for pickup or mailed to you will be assessed.
Please note you will be charged the agreed upon amount whether you pick up the item or not.
---
How long can I keep the item I borrow?
Loan periods are set by the lending library. The loan period begins when an item leaves the lending library, not when the item is picked up by you. Photocopied documents are yours to keep.
---
Can the loan period be extended?
The lending library decides if they will extend your loan period. Extensions must be requested at least 3 business days before the due date by calling 858-7126. Requesting an extension does not guarantee the lender will allow one.
---
Where do I return Interlibrary Loan items?
Return items to any B&ECPL library. Please do not place the items in a drop box. Items returned in a drop box may be damaged and you are responsible for the condition upon return. Take the items inside to the Information desk and include all of the paperwork given to you when the item was checked out.
---
Are late fees charged for items borrowed through Interlibrary Loan?
The B&ECPL does not charge late fees, however some lending libraries may also impose an additional overdue fee which will be charged to you.
Your Interlibrary Loan request privilege will be blocked if one or more Interlibrary Loan items are 8 days overdue. Your B&ECPL library privileges will be blocked once charges on your account exceed $50.00.
---
What if I lose or damage the Interlibrary Loan item?
If you damage or lose an Interlibrary Loan item you are responsible for payment of the actual cost of the item and any processing fees required by the lending library. The charges will be added to your B&ECPL account. Borrowing privileges for both B&ECPL and Interlibrary Loan will be blocked until your fine balance is $50 or less.
---
What if I forget my Interlibrary Loan password?
* This is not the same as the 4 digit PIN used with your regular library account.
Go to the login page and look for "Set/Reset Password". Follow the prompts.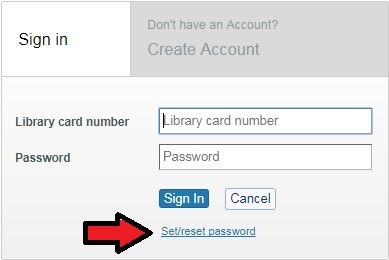 If you do not have email or you have been unsuccessful re-setting your password online, call the Interlibrary Loan Department at (716) 858-7126 M-F 9 am to 5 pm.
---
How will I know when my item(s) arrive?
You will be notified by phone or email when your item is ready for pick up. Contact method is set up when you register and can be changed at any time.
For best service, please make sure that your email address and daytime phone number are up-to-date in your account profile.
---
What is electronic delivery of articles?
This means articles are sent directly to your email. Follow the instructions which may include a link and /or special password to open the file. You can then read, download or print the article.
Printed copies of articles will be sent to you only when:
Electronic delivery is not available
You do not have an email account
You prefer to receive hard copies
Print copies are either delivered to the library location of your choice for a fee of $.50 per page or mailed to your home with an additional $5.00 delivery fee.