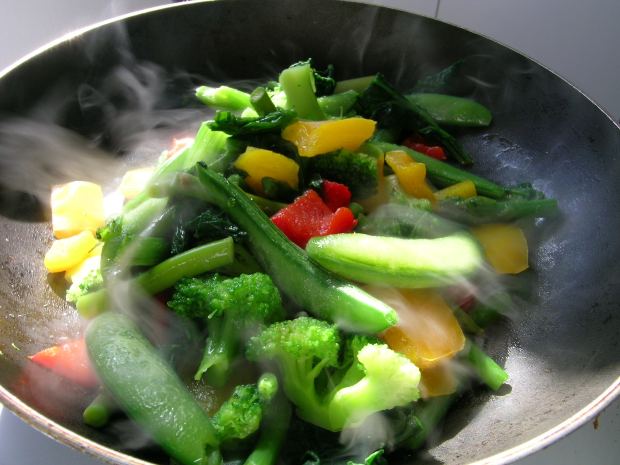 Check out our Healthy Eating guide for nutritional resources and additional recipe links. 
Databases
Gale OneFile: Culinary Arts
The Culinary Arts collection includes 150 of the major cooking and nutrition magazines. Coverage includes thousands of searchable recipes, restaurant reviews, and industry information.  Virtual Tour
Websites
All Recipes
A great resource for searching recipes and cooking tips.  If you join the website as a free member, you can save a collection of recipes, submit your recipes, and review other recipes.
Bon Appetit
The magazine's website contains tips, tools, and recommended ingredients for various dishes.
Cooking Channel
Top global chefs share their best recipes and demonstrate their specialties in cooking technique videos
Cooking Light
With a focus on recipes that encourage healthy living and nutrition, this website contains a variety of different recipes that include vegetarian dishes and world cuisine.
Epicurious
Food resource for the home cook, with daily kitchen tips, fun cooking videos, and recipes.
Fine Cooking
Kitchen-tested recipes, videos, healthy meals, party menus and cooking techniques from top cooks
Fire & Freedom Exhibition: Food & Enslavement in Early America 
Digital gallery with books from the 18th century about the art of cookery, containing historical recipes.
Food & Wine
Inspiration is served daily with recipes, recommended wines, and a search feature for restaurants at different travel locations.
Food Network
Featuring recipes from TV and award-winning chefs, the website contains a platter of sections just as varied as the food-centric shows of the network.
Food Safety
Follow safety tips from this resource regarding food temperature and more.
Taste of Home
Browse recipes by course, cooking style, cuisine, ingredient and more categories to find a new family-favorite dish
Community and Local Links 
Buffalo Greek Fest
Experience the sights, sounds and tastes of the birthplace of democracy – Greece. Enjoy the Greek food, feel the rhythm of the music, and dance a little!
Buffalo Soup-Fest
Sip, slurp and sample some of WNYs finest soups!
BurgerFest
Celebrating the birthplace of the hamburger in Hamburg, New York and features favorite offerings of area restaurants.
Eden Corn Fest
Featuring food, a midway, craft show, parade, agriculture showcase, contests, and more!
Erie County Farm Locator
Great resource to locate local foods from farms and CSAs.
Food Truck Tuesdays at Larkin Square
Enjoy live music, market stalls and food trucks!
Guide to WNY Farmer's Markets
A work-in-progress farmer's market guide which covers WNY from the Southern Tier to Niagara County. Weather and seasons may play a roll on what is available at each marekt.
Hamburg Oktoberfest
Featuring authentic food, drinks, music, dancing, and a car show!
Italian Heritage and Food Festival of Buffalo New York
Live entertainment nightly as well as participating in our many cultural events: street tarantella dancing, grape stomping, St. Anthony procession, Sicilian puppet shows, genealogical research and much, much more.
Local Harvest
Listing of local farms and CSAs (Consumer Supported Agriculture) where you can purchase fresh produce and meats. Some offer home delivery.
The National Buffalo Wing Festival 
The festival has become the "Super Bowl" of the chicken wing industry for restaurants, wing lovers, and competitive eaters.  It has even been showcased by national media such as various Food Network shows, ABC's The View, and NBC's Today Show.
Polish Heritage Festival
Food, culture, traditions, exhibitors and entertainment.  There are even bake-offs and a pierogi eating contest.
Taste of Buffalo
Celebrated by attendees from all over New York, Southern Ontario, Pennsylvania and Ohio as well as visitors from across the country and around the globe, the Taste features cuisine just as varied. From Indian to Polish, Italian to Chinese, Caribbean to Irish, there is something to please every taste bud.
Taste of Diversity
Featuring food, music and dance representing Western New York's ethnic and cultural communities. Takes place on Grant Street near Lafayette in Buffalo's West Side.
Taste of Lancaster
Featuring food from local restaurants, vendors and music!
Taste of Lockport
Each year approximately 7,500 Western New Yorkers attend this event to sample over 25 restaurants and wineries and enjoy live music and other family activities. The money raised by Taste of Lockport benefits the Lockport Business Association's mission and goals.
Western New York Local Restaurant Week
Dine out with friends and family in support of the local independent restaurant community, and experience incredible savings with tasty dining meals.
WNY Vegfest
Featuring speakers, exhibitors, vendors, live music, delicious & healthy food, rescue animals, children's activities, performances, a 5K and more!
Library Materials
Click on the following topics for a quick search in the Library's Catalog.
Appetizers
Baby & Toddler
Baking 
Barbecues
Children's Cookbooks
Cookery & Cooking
Dairy Free & Other Allergy-Free Recipes 
Desserts
Drinks
Gluten-free
Healthy Recipes  
Holiday Recipes
Instant Pot & Pressure Cooking
Low-Calorie
Quick & Easy Recipes
Raw Food
Recipes
Recipes for Kids
Slow Cooking
Soups & Salads
Sugar Free
Vegan
Vegetarian